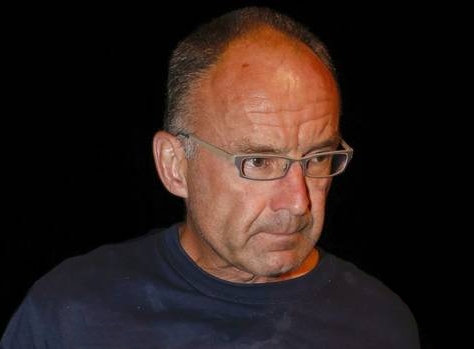 In the months before he was accused of murdering a five-year-old boy and his grandparents, Douglas Garland's computer was used to search for "most painful torture," a digital forensic investigator told jurors on Tuesday.  The Crown's theory is evidence of files, photos and search history found on a hidden hard drive in the Garland home tells a story of an obsession with torture, killing, kink and murder victims Alvin and Kathy Likness.
Const. Doug Kraan was responsible for poring over 112 gigabytes of information on the drive. In earlier testimony, jurors heard about files on the drive that included research on dismembered bodies, autopsy tools and sexual photos of adults in diapers.
On Monday, Kraan said the main user of computer "would have been Douglas Garland," because of emails found on the hard drive.
But under cross-examination, Kraan confirmed to defence lawyer Kim Ross it is his "opinion" as an expert that Garland is the one who used the computer and could not state it as fact.
Garland, 56, is being tried on three counts of first-degree murder, accused of killing Nathan O'Brien, 5, and his grandparents, Alvin Likness, 66, and his wife, Kathy, 53. They were last seen alive when the boy was having a sleepover at their home in the southwest Calgary neighbourhood of Parkhill on June 29, 2014. Their bodies have never been found.
The hard drive was discovered hidden in joists in the basement of a farmhouse north of city.
Kraan found Google searches for:
The Liknes's estate sale.
"Alvin Liknes," "Kathryn Liknes" and Kathryn's phone number.
Amputation and autopsy tools, amputation retractor.
"Force needed for concussion."
"Lack of oxygen brain damage minutes."
"How to drill out a Schlage lock" (accessed seven days before the family disappeared) .
"Most painful torture."
"Human dissection."
"Bone grinder."
"Blood stain pattern test."
"Blood removal solution."
On Monday, the jury heard about the following evidence found on the hard drive:
Photos of Kathy Liknes.
Documents relating to Alvin Liknes's businesses and his address.
Fetish-type photos of "adult baby diapering" with some people in handcuffs and sexual positions.
An autopsy manual.
A folder called "Gore" with 87 photos of dead and dismembered people.
Eighteen documents on "killing" or "murder."
Book called How to Kill Without Joy: The Complete How To Kill Book.
Before Kraan began presenting the graphic evidence, Court of Queen's Bench Justice David Gates instructed jurors not to conclude Garland is a "bad character" because of the evidence and therefore infer guilt. Instead, he said they could consider it in the context of three issues: identity, murderous intent, and planning and deliberation.
The hard drive shows no research on Nathan, but the Crown's theory is that he "tragically happened to be at the home that night," and Garland "incorporated him into his already meticulous research plan."
A user and programming guide for a Schlage BE356 lock was also found on the hard drive.  The same type of lock was found tampered with on the Liknes's side door the morning they were discovered missing. That folder was accessed five days before the boy and his grandparents were last seen.
Surveillance video was also played in court Tuesday, showing Garland buying a number of items from a Princess Auto store in Calgary, including meat saw blades.
Two weeks after the massive search for Nathan and his grandparents began, Garland was arrested and charged with their murders on July 15, 2014.
Garland is connected to the Liknes family through his sister, Patti Garland, who was in a common-law relationship with Alvin Liknes's son, Allen.
Patti Garland, her parents and Allen Liknes all testified earlier in the trial that Garland harboured a grudge against Alvin Liknes after a business relationship soured years earlier.
Det. Colin Harper, who was in the economic crimes unit in July 2014, told jurors that in early July, Garland was charged with identity theft and released on July 11, 2014, five days before he was arrested for murder.
At the end of the day, the judge told jurors the identity theft charge has been stayed.  "This is evidence that you ought not to have heard," said Gates. "You should not consider it for any purpose."
One of Wednesday's witnesses will be medical examiner Dr. Elizabeth Brooks-Lim, who examined bones found in the burn barrel on the Garland property.
By Meghan Grant
Source:  cbc.ca