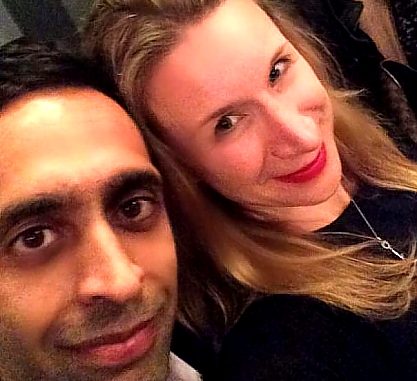 WINDSOR – Just two years into Elana Fric-Shamji's marriage, the popular Toronto doctor's husband — now accused of her murder — was charged with threatening and assaulting her, court records show.
The documents obtained by the Windsor Star reveal Ottawa police alleged Mohammed Shamji assaulted her and threatened to cause bodily harm to her and the couple's oldest daughter in May 2005.
The charges were withdrawn in July 2005 on the same day Shamji, a neurosurgeon, signed a court order in which he admitted Fric-Shamji, who grew up in the Windsor area, "fears on reasonable grounds" that he would "cause personal injury to her" and "did use inappropriate actions."
The order, known as a peace bond, was put in place for a year and prohibited Shamji from going within 200 metres of his wife's home "unless with her consent and under her conditions." He could not possess any weapons and was required to continue "counselling and treatment" with a psychiatrist.
The couple was living in Ottawa at the time.
Liam O'Conner, the lawyer representing Shamji in the murder case, declined to comment on the 2005 charges and court order.
Fric-Shamji's body was found inside a suitcase not far from the couple's Toronto area home on Dec. 1. Her mother had reported her missing the previous day.
Her husband, who was under police surveillance before his arrest, was arrested and charged with first-degree murder on Dec. 2, said Toronto police Det-Sgt. Steve Ryan, who described the case as "awful" and "terribly sad."
Toronto police were aware of the charges filed in Ottawa in 2005, he said.
On Friday, police were looking for any evidence left behind at the spot where Fric-Shamji's body was discovered in a suitcase in a shallow part of the Humber River, Ryan said.
"We're still missing property," he said. "We haven't located a brown Coach purse and an iPhone" along with the victim's car keys.
Fric-Shamji's body showed signs of strangulation and blunt force trauma, but it is too early to say if domestic violence played a role in her death, Ryan said.
Just days before her body was discovered Fric-Shamji, 40, told medical colleagues at a meeting that she had filed for a divorce and was looking forward to a fresh start for herself and her children.
At the time of Fric-Shamji's death she and Shamji, also 40, had three children who police say are now being cared for by their grandmother.
Speaking generally, Betty Jo Barrett, an associate professor of social work and women's studies at the University of Windsor, said the days after a woman asks for a divorce can be the most dangerous.
"Some relationships, where there has never been physical violence, escalate to physical violence when a woman is leaving because the perpetrator realizes what they're doing isn't working, so they have to escalate to keep their sense of power," she said.
Barrett has studied domestic abuse for the past 10 years. In many cases, those close to abuse survivors are surprised to learn the extent of the violence involved because they never see it or hear about it from the victims, she said.
Previous charges are "a big risk factor" that there could be more violence in the future, she said.
"Often times what will happen is there will be domestic violence (and) they'll try to leave. Then the perpetrator will try and convince them it was a one-time thing," she said. "Once the woman drops charges or agrees to be in the relationship again the perpetrator will be on good behaviour until things start to escalate again."
Getting a peace bond was evidence of Fric-Shamji seeking help, Barrett said.
Dr. Nadia Alam, a family doctor in Georgetown, met Fric-Shamji during an Ontario Medical Association meeting just months before she was killed.
Her popular colleague's death has changed her perspective as a physician, said Alam, who plans to include regular screenings for all her patients to bring up healthy and unhealthy relationships.
"Intimate partner violence, domestic violence, family violence — it's a huge issue," she said. "I want positive change to come out of this tragedy."
On Friday Fric-Shamji's family issued a statement thanking the public, Toronto police and members of the OMA who shared memories of her through social media.
"We miss her greatly and these memories mean a great deal to all of us today and every day," the statement reads.
To honour Fric-Shamji's memory, the family is asking donations be made to the Canadian Centre for Immigrant and Refugee Health Care, a cause she was passionate about, and The Shelter Movers of Toronto, described as an organization that "provides safe, respectful moving services at no cost to persons fleeing abusive households."
Fric-Shamji's death draws attention to the fact that there's no "perfect, mystical abuse victim," Barrett said.
In most cases women who are being abused will seek help from friends or co-workers rather than trained professionals, she said. "When you know of these situations be present, be affirmative, be non-judgmental. Those small things can literally save a life."
By: DAN TAEKEMA, POSTMEDIA NEWS
Source: The Province.com