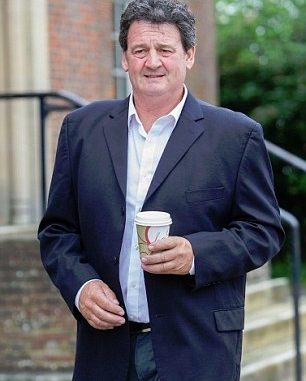 Paul Price, 53, was accused of attacking the woman twice during a night out with his wife and her husband. But he insisted she consented to sex on both occasions.
Outside court, fencing contractor Mr Price branded the allegations "despicable"
He also questioned why defendants in sex crime trials should be publicly named when the complainant can never be identified.
Mr Price hugged wife Amy and daughter Sophie, 27, before heading off for a celebration drink.
His barrister Abigail Penny said outside court: "Mr Price would like to thank the jury for seeing the truth in this case.
"He would like to tell you that he is innocent of these despicable allegations and he is concerned that his name has been published while the complainant enjoys anonymity.
Jurors were told Mr Price followed the woman on a beach at Worthing, West Sussex, after she complained of feeling unwell.
She claimed he pushed her against a tree and raped her. The woman said she flagged down a van before getting into a taxi with Mr Price, Chichester Crown Court heard.
He allegedly raped her for a second time in woodland near his home. Mr Price denied attacking the woman in March last year and insisted she consented to sex on both occasions.
He told police: "We were just having fun and a laugh and then we started having a kiss and a cuddle.
"Then she says, 'I haven't had sex for a year'.
"Hands were wandering, not just on my part but on her part as well. She wanted it as much as I wanted it."
Mr Price, of Angmering, West Sussex, clenched his fists and slumped into his seat as he was cleared.
Dozens of friends and family cheered from the public gallery as Judge Christine Henson, QC, told him he was free to go. During the trial, jurors heard a glowing tribute to Mr Price from stepdaughter Katie, 38.
In a statement she said: "He is always supportive in all situations and always puts us family first.
"Although he is not my biological dad, he took me and my brother on from a young age and I regard him as my dad. I know he is there for me for everything.
"In fact you can't keep people away – he is a people person." Katie Price did not attend court as she feared her presence would spark a "media circus".
His case will be seen by legal experts as adding weight to calls for legislation to give sex crime suspects the same anonymity as complainants.
Katie did not attend court as she believed it would cause a 'media circus'
Many senior legal figures believe the measure is necessary to create a "level playing field" between accused and accuser.
But others fear it would infringe too far on the basic principle of open justice.
Questioned by Ms Penny, the woman denied being an attention seeker who planned to sell her story.
She sobbed as she said: "I didn't put up a fight. I thought the best and safest thing was to get home to my husband."
She also accused Mr Price of being a "sex addict" – an allegation he dismissed as "totally untrue."
By JOHN TWOMEY  Source: Express.co.uk