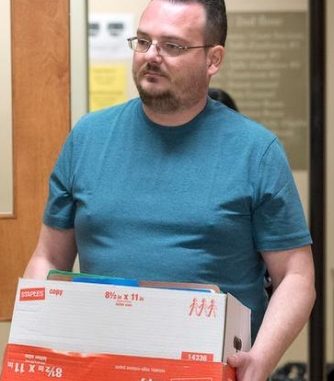 CAMPBELLTON, N.B.:   Jean-Claude Savoie is facing trial for criminal negligence in the deaths of two sleeping boys killed by a 4.7-meter snake.  Savoie owned the Reptile Ocean pet store below his Campbellton apartment.  The boys were having a sleepover with his son.
An African rock python escaped its enclose through an uncovered vent and the snake was able to cross through the vent and drop into the living room.
A constable testified that he found Savoie wearing a bloody shirt, two boys who were beyond medical help, and the African Rock Python in the laundry room.  The two boys were covered in red marks, and one had a lot of wounds. "I knew at the time not much could be done," said the constable. "There was lots of blood."  He said a paramedic examined the boys, but nothing could be done.
The Crown attorney told the jury the python had tried to escape before and that Mr. Savoie committed a breach of duty to take care of those children when they were left with him by their mother.  He didn't kill them himself but he failed to take precautions.
The Crown attorney also called the deaths of the boys a sad story, a tragic story.  Savoie was a friend of the family who had taken the boys for a sleepover with his son.
Another police officer who responded to the scene also told the court that he observed the python being very aggressive after it was put back into its enclosure. "It was standing on its tail and charging the glass," the officer said. "I observed the snake trying to reach the vent hole in the ceiling."
As the trial got underway, the judge instructed the four-man, eight-woman jury about the presumption of innocence, and that Savoie starts with a "clean slate" at the beginning of the trial.