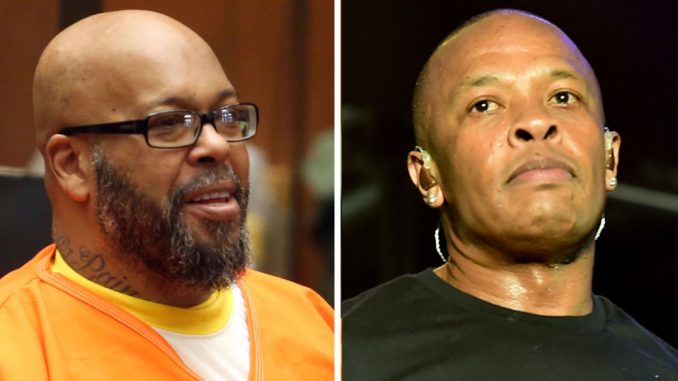 "Suge" Knight alleges in a lawsuit that the hip-hop star turned Apple executive tried to have him killed twice.
Suge Knight, the former executive of Death Row Records, is suing Dr Dre for $300 million and accusing him of hiring a hitman to kill him.
Mr Knight claims that Dre hired the hitman shortly after he sold Beats to Apple Music in 2014, in an effort to evade a lifetime management agreement that entitles Mr Knight to 30 per cent of his earnings.
The lawsuit claims that the contracted  killer is the same man who shot  Mr  Knight seven times outside a pre-MTV VMA party at 1 Oak nightclub in West Hollywood.
Another suspected assassin was run over and killed by Mr Knight that happened to be on the set of the N.W.A. biopic, Straight Outta Compton.
Issuing a statement ,Dr Dre's attorney Howard King claims that Mr Knight and Dre have had zero contact between each other since 1996
In the lawsuit filed in Los Angeles Superior Court, Knight claims he was defending himself as another man, filmmaker Cle "Bone" Sloan, allegedly pulled a gun on him.
Several months earlier Knight was shot seven times at a Hollywood party thrown by R&B star Chris Brown.
"Andre Young is responsible for both crimes," the lawsuit said, referring to Dr. Dre by his given name.

"It is a well-known fact that Young and Knight are not friends," said the lawsuit, which seeks financial damages.
A lawyer for Dr. Dre has reportedly dismissed the allegations as far-fetched.
Meanwhile, Cle Sloan, who was injured in the car park incident, has denied threatening Knight.
Knight has separately sued Chris Brown for a lack of security at his party.