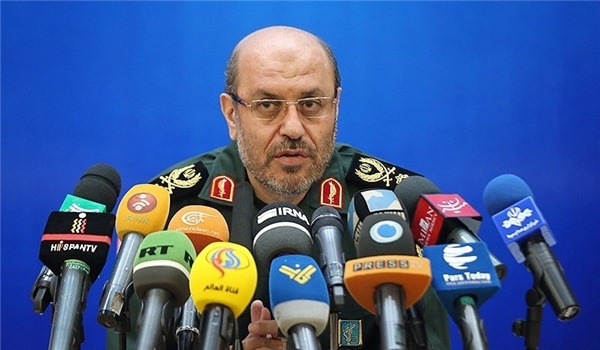 TEHRAN – Brigadier General Hossein Dehqan, Iranian Defense Minister, criticised the US and its allies for their empty human rights rhetoric and, through their continued support for the terrorist groups, they are blocking evacuation of civilians from Aleppo war zone.
General Dehqan stressed the necessity for the US and its allies to terminate their support for terrorism, abandon their evil plots to disintegrate the regional states, recognize the legal governments and help them to fight against terrorism and hold internal talks, adding that these are the needed for ending the crisis.
General Dehqan said, "On one hand, the US and its regional and trans-regional allies chant humanitarian slogans, and on the other hand, they give the green light to the terrorist groups affiliated to them, including Fatah al-Sham Front, formerly al-Nusra Front, to prevent people's exit from the military regions so that they can use people as human shield, distort the Syrian army's anti-terrorism operations and guarantee the terrorists' survival with such measures."
Russian Foreign Ministry spokeswoman Maria Zakharova said, "The situation in Syria remains tense, especially in the Northern parts of the country with battles going on in Aleppo and around it where al-Nusra Front militants use civilians as human shield.  So far, we see in the actions of primarily Western countries no concern for the humanitarian situation in Syria, but the desire to protect al-Nusra, its affiliated forces and other militant groups."
The Syrian government has created safe corridors for the evacuation of civilians but the militants prevent them from leaving Aleppo and even fire at those people who want to pass through the corridors.