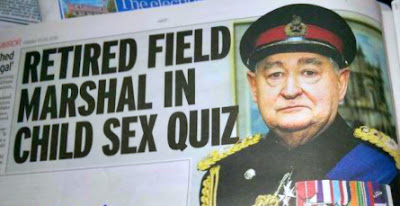 Lord Bramall, 92, the former chief of the defence staff, has said he has received an apology from the Metropolitan Police commissioner Sir Bernard Hogan-Howe over its investigation of historical child abuse allegations against him.
The Met would not confirm an apology had been made.
Lord Bramall, who retired from the House of Lords in 2013, was accused in 2014 of child sexual abuse by a man known by the pseudonym Nick.
The Metropolitan Police launched a major investigation and the following year the home of the retired field marshal was raided by more than 20 officers. He was finally cleared in January this year, 10 months after the raid.
It is expected that the Operation Midland investigation will receive critisism in an independent report commissioned by Sir Bernard from former High Court judge Sir Richard Henriques. Operation Midland was a Met Police inquiry into claims a VIP Westminster paedophile ring abused children in the 1970s and 1980s. It closed in March without any charges being brought.
Lord Bramall said he did "not want to be too hard on the police", and gave credit to Sir Bernard for setting up Sir Richard's inquiry "when he must have known that his officers were getting it all wrong".
"The trouble was after the apparent mistakes back in 2012 relating to revelations of very serious and serial child abuse, a mixture of public outrage and propaganda… put immense pressure through the Home Secretary, on the police."
Lord Bramall said the situation at the time produced a "witch hunt culture in which child abuse, particularly historic child abuse came to be dealt with entirely differently to other criminal offences".