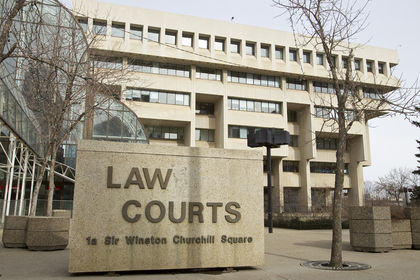 An Edmonton woman who stabbed her estranged husband to death after tying him to a bed under the guise of sexual activity and then tried to mislead police was sentenced to life in prison Thursday. Amanda Michelle McInnes, 30, will not be eligible to apply for parole until she's served 18 years.
Court of Queen's Bench Justice Paul Belzil described the deadly September 2012 stabbing of Tye Christopher Kaye, 27, as the "callous and brutal killing" of a "completely unsuspecting" individual. Belzil ruled it was aggravating that the slaying was a breach of trust, as it occurred in the context of domestic violence, as well as the fact that McInnes targeted and lured Kaye, she used gratuitous violence and then took steps to clean up the scene and deflect blame.
On the night of Sept. 23, 2012, Kaye's roommates came home and discovered his blood-covered body on his bed. His left hand and ankles were bound to the bed frame with rope and there was a blood-soaked bandana around his neck. McInnes later admitted she tied Kaye up after convincing him it was for a sexual purpose. An autopsy showed she then stabbed him 40 times.
To cover her tracks, McInnes made anonymous 911 calls reporting suspicious activity and, the day after the killing, returned to the apartment and wrote "Murder #3 — This is not over pigs" on the walls using a red crayon.
McInnes read out a letter of apology in court, and Belzil said Thursday that he accepts she is "truly remorseful." The judge also noted that McInnes had no prior criminal record and she has a low level of intellectual functioning.