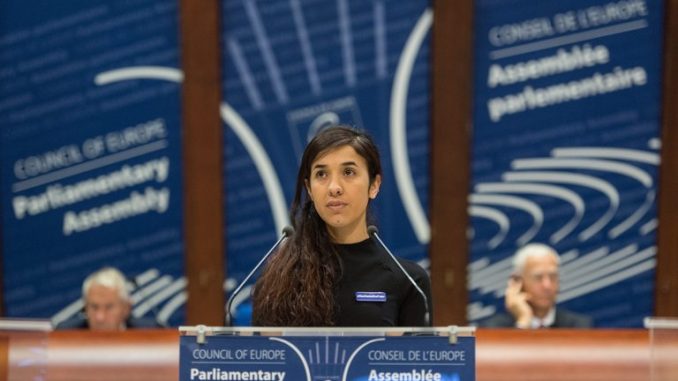 Fighters for the Islamic State abducted a young Yazidi woman named Nadia Murad, her siblings and their mother from their village in northern Iraq more than two years ago. Barely in her 20s, Ms. Murad was separated from her family, beaten and sexually assaulted. She managed to escape, and eventually made her way to Germany.  Despite her own trauma, she took up a global campaign to draw attention to the plight of Yazidis being held in sex slavery by the Islamic State or remaining displaced in Iraq. For that work, Ms. Murad was awarded the Vaclav Havel Human Rights Prize on Monday.  The Havel Prize follows on other recognition for Ms. Murad, who is 23. Last month, she was named a United Nations good-will ambassador on behalf of victims of human trafficking.
Addressing the Parliamentary Assembly of the Council of Europe in Strasbourg, France, Ms. Murad said she was linked to Mr. Havel by "tragedy, injustice and the search for a glimmer of hope in darkness."
"I will go back to my life when women in captivity go back to their lives, when my community has a place, when I see people accountable for their crimes……It was a genocide," she said of the campaign against Yazidis by the Islamic State, also known as ISIS or ISIL. "They sought to force us to deny our religion, as they considered us to be nonbelievers. And they killed men, enslaved women and abducted children in order to transform them into terrorists. Girls as young as 8 were kidnapped and made to join "a systematic" network of sex slaves……..I have met young girls who were raped at an age when they didn't even know what the word meant. I met people who lost their entire families; whole families were wiped out."
In June, United Nations experts called the Islamic State's campaign to exterminate Yazidis and other religious minorities in Iraq and Syria genocide.
But to hold the militants accountable under international law would take the explicit cooperation of the Iraqi government, as the International Criminal Court, which handles war crimes cases, has no jurisdiction over Iraq or Syria. One option under discussion among United Nations Security Council members is to establish a team to investigate all crimes committed by the Islamic State everywhere — not just against Yazidis.
Ms. Murad again called for a special international tribunal to prosecute Islamic State fighters as war criminals. "We cannot have terrorist groups, barbarians, massacring whole peoples, destroying civilizations and cultures, because all people must be able to determine their own lives and nobody should seek to impose their ideas on anyone else," she told the lawmakers. "We need to have religious freedom, we must accept difference wherever it arises and we must make sure that all parliaments are aware of what happened to us."