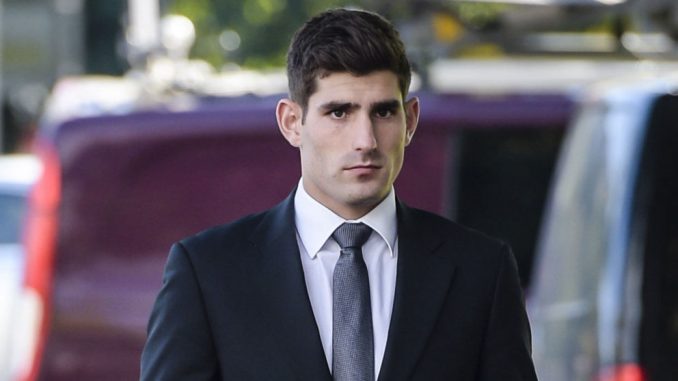 The former Sheffield United striker denies raping a drunken woman at a hotel in north Wales, claiming she gave consent.
Tweets By Sky News 
CE says when X says he could join in he messaged his brother saying that he could go. Case adjourned for day. Evans denied charge of rape 
Pros says at very best she may have thought she was having sex with CM. CE disagrees. 
Pro:"X didn't know that you were having sex with her" CE says she saw him coming in the room, pros says it was dark 
CE"In the room she wasn't all over the place, in the CCTV I can see she was drunk but she wasn't behaving like that in the room."
Pros asks CE of footage of X falling in shop,"wobbling" down the street,"the truth of the matter is she was all over the place wasn't she?"
Pros"I suggest to you Mr Evans that cannot possibly be the truth" CE:"That is the truth" 
CE"yeah, I said she was about the same as me. I was drunk but I was in control." 
Pros "Do you maintain by the time she got to that hotel room that she was not very drunk and in control?"
CE says footage of Xs "condition" on CCTV and "what I'd seen in the bedroom, it was totally different". 
CE says his mum had told him that his brother was being spoken to by police about that night before he went to to CMs 
CE says he and CM didn't discuss what happened in room 14 when he went to his house. 
CE says he can't remember a call with CM when he left. 
Pros suggests with a taxi there would have also been other evidence which wouldn't have been there if they walked 
Pros:if you'd phoned for taxi there would have been a record of such a phone call CE:yes 
Pros says when they left CE could easily have afforded a taxi instead of walking. Evans says they walked to his mums 
Pros suggest that there was a plan to go to Evans house, CE says there was no plan. Says he didn't know where CM going when left. 
Pros says if they left together would have been easy to pinpoint they time they had left.Pros suggests they deliberately left separately 
Pros suggests that a "motivation to cover your tracks" was reason why he and CM left separately. 
Pros"I suggest it was much more sinister".."I suggest you left by that route for a specific reason, in order to cover your tracks" CE:NO 
Pros I suggest Mr Evans with respect it would have been a walk of only a few seconds to go through reception ..CE yes! 
Pros asks why he went through an alarmed door and a fire escape which also said it was alarmed 
Pros says afterwards you didn't thank her, say goodbye, give her a kiss, you just walked out. CE: yes 
Pros: You didn't know her name and you're saying the sex you had was consensual CE:yes 
Pros You didn't know where she lived, you didn't have her phone number…you didn't recognise her, you had not been in the taxi, 
Pro"One of the features of this case I suggest with you is throughout this case you never knew Xs name" 
Pros asks if he can see difference between the two? CE says that's just the way CM speaks. Pros: "He never mentioned her name" 
Pros says CM text says "I've got a bird", CE says it could have been that or "I've met a bird" 
CE says he had been drinking, adds "No, I wasn't really drunk". 
Agrees he put another girl in taxi and was also able to find his friend. Pros says "you weren't really drunk at all" 
Pros asks at kebab shop if CE would describe himself as drunk or really drunk? CE says drunk. Agrees he could pick way around pep in shop 
Pros asks in light of earnings was it really you're motivation to say just 1 person staying to save money? 
Evans is now being cross examined by the prosecution. They says as a professional footballer he was earning thousands a week… 
Khan: Did you rape X Mr Evans? CE:No 
Did it appear to you that she knew what was going on? CE:Yes If she had appeared too drunk to have sex would you have had sex with her? No 
Of X ..Khan"Is here any doubt in your mind that she was consenting?" CE "No,none" 
Says he told the police the truth. Khan reminds court he was tried, found guilty and subsequently acquitted 
Says was interviewed by police, answered all the questions.Says he was "frightened"adds "It was scary, I couldn't quite remember everything" 
Khan:"As far as you were concerned was there any reason why you should have been arrested?" CE:NO 
"How did you feel when you were arrested?" CE:Scared 
CE arrested at CMs address in Crewe on 31/t May 16.40. He was interviewed. 
CE says when woke up he thought JB was at the police station.He & CM went to police station at 9am/11am and 3pm to pick him up when released
Says Cm came with him to his mums, says couldn't comment on why CM didn't stay in hotel. Says walked 20/30mins straight home. 
Khan"If the suggestion is made to you that you wanted to sneak out what would you say to that?" CE"I didn't sneak out".Says went to his mums 
CE says leaves room and turned right. Confirms he left via fire exit as it went to main road he wanted to be on. 
CE Says "once I did so she pulled the corner of the quilt over herself". Says started to get dressed. Nothing else said between them 
CE says more real he was cheating now they were alone. He says he pulled away. 
Says stopped because "the situation I was in, became real I was cheating on my girlfriend". Says "was caught in the moment before"… 
CE says CM got dressed and said he was leaving. CE says neither he or X replied and he left.X & CE alone and he says he stopped having sex 
CE says apart from CM asking if he could join in,CM also asked X to perform sex act on him.
Case Continues….