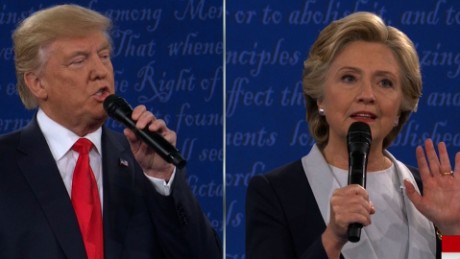 Donald Trump pledged during the during the second presidential live debate on Sunday night that he would order his attorney general to investigate Hillary Clinton.
Trump also remarked that she should "be in jail."
Trump drew applause when he said "I hate to say it but if I win, I am going to instruct my attorney general to get a special prosecutor to look into your situation. Because there has never been so many lies, so much deception, there has never been anything like it,"
A president is not typically authorized to order specific criminal investigations of individuals, let alone a public pledge to investigate a political opponent.
The FBI and Department of Justice have formally closed the inquiry into Hillary Clinton's use of a private email server as secretary of state. So the notion of a new president seeking to force the re-opening of the case, because a new party is in office, is essentially unprecedented.
Shortly before the debate began, Donald Trump held a press conference alongside three women who have claimed they were sexually assaulted by Bill Clinton.
As the debate started, it was only minutes before a question was asked about the lewd tape, in which Mr Trump brags about forcibly kissing women.
Mr Trump then attacked Mrs Clinton over her use of a private email server while she was US secretary of state, saying that if he was president she would be in jail.
The debate finally settled into answering questions from a panel of members of the public. The final question of the night to the candidates was what they respected about each other.
Mrs Clinton said: "I respect his children. His children are incredibly able and I think that says a lot about Donald."
Mr Trump said: "I will say this about Hillary – she doesn't quit, she doesn't give up. I tell it like it is. She's a fighter."