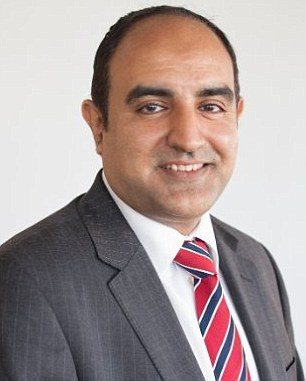 Sanjay Nijhawan, 46, who was accused of murdering his wife Sonita, 38, at their mansion in a gated community in Weybridge, Surrey, on May 21, has been found guilty of manslaughter.
Nijhawan, who was diagnosed with depression months before the killing, stabbed his wife 124 times at their £2million home after she told him she wanted a divorce.
He had a mortgage of £670,000 but quit his highly-paid job as an investment banker in the City of London for Barclays.
Nijhawan is said to have attacked his wife with an axe and a knife, leaving her with more than 150 injuries.
Defence counsel Orlando Pownall QC had argued that the defendant's anxiety and depression would have affected his judgement at the time of the attack.
However, Sally O'Neill QC, prosecuting, told the jury in her closing speech that the defendant's culpability was a matter for the jury. She said the prosecution did not question that Nijhawan was suffering from psychological problems. What was at issue was whether the defendant's mental state was such that it would have seriously affected his responsibility for his crime.
Nijhawan had denied murder. He was found not guilty of her murder by a majority verdict.