Darren Osborne is facing jail after being convicted of driving a van into Islamic worshippers outside a north London mosque.
A man who vowed to "kill all the Muslims" has been found guilty of murder and attempted murder after launching a terror attack on Islamic worshippers in Finsbury Park last year.
It took the jury at Woolwich Crown Court just 59 minutes to convict Darren Osborne, 48, of killing 51-year-old Makram Ali and injuring nine others.
He deliberately drove a van into a crowd of Muslim worshippers in north London in the early hours of 19 June.
A trial heard how Osborne's attack was fuelled by a hatred for Muslims and how he had initially planned to kill "as many people as possible" at an Islamic march in London the day before.
Osborne, from Glyn Rhosyn in Cardiff, south Wales, admitted to a jury he also hoped to kill Labour leader Jeremy Corbyn, who he thought would attend the Al Quds Day march.
He told the court: "If (London mayor) Sadiq Khan would have been there it would have been even better, like winning the lottery."
Osborne's initial plan was thwarted when he discovered he could not gain access to the march in central London.
Instead, he drove for hours in the capital – looking for an alternative target.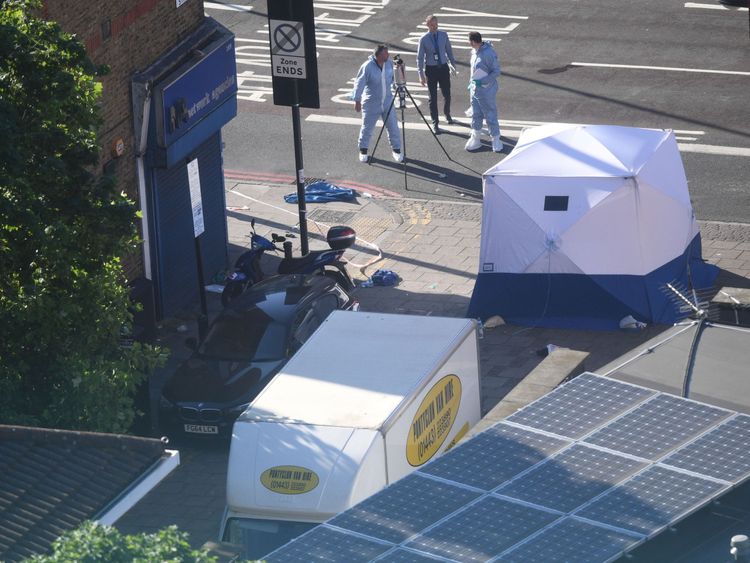 Osborne asked for directions to the nearest mosque and then travelled to Finsbury Park.
The court was shown CCTV footage of Osborne doing laps around the area, with cameras capturing the moment he drove through a crowd of people in Islamic dress.
During the trial, prosecutor Jonathan Rees said: "To seek to kill someone merely because of their religion is a terrible thing.
"And what makes this act particularly horrific is that the group he drove into had gathered in the street in order to help Makram Ali, the deceased, who had collapsed as he walked along Seven Sisters Road a couple of minutes before the defendant carried out his attack."
The impact of the large van killed Mr Ali and left others with life-changing injuries.
A 999 call made after Mr Ali's collapse was played in court.
The moment the van hits the crowd could be heard, followed by minutes of chaos, with the caller asking for more ambulances.
The jury heard Osborne's motives for the attack were clear from a handwritten note found in the van.
It complained about terrorists on UK streets and the Rotherham child grooming scandal.
The note referred to Muslims as "feral" and described Muslim men as "rapists", declaring they were: "Hunting in packs preying on our children, this will be coming to a town near you soon, it most probably has, get back to the desert, you raping inbred bastards & climb back on ya camels."
Osborne also called Mr Corbyn a "terrorist sympathiser" and lambasted Mr Khan and pop star Lily Allen, the prosecutor told the jury.
Ending the note, Osborne wrote: "Well Folkes gotta go busy day today. Remember peaceful vigils only & please dont look back in anger, God Save the Queen."
It is believed he wrote the letter in a pub the day before he drove to London in a hired van.
CCTV footage of the Holybush pub, near Cardiff, shows Osborne writing a note and drinkers said he was ranting about Muslims before he was asked to leave.
Witnesses told how Osborne declared: "I'm going to kill all the Muslims, Muslims are all terrorists.
"Your families are all going to be Muslim. I'm going to take it into my own hands."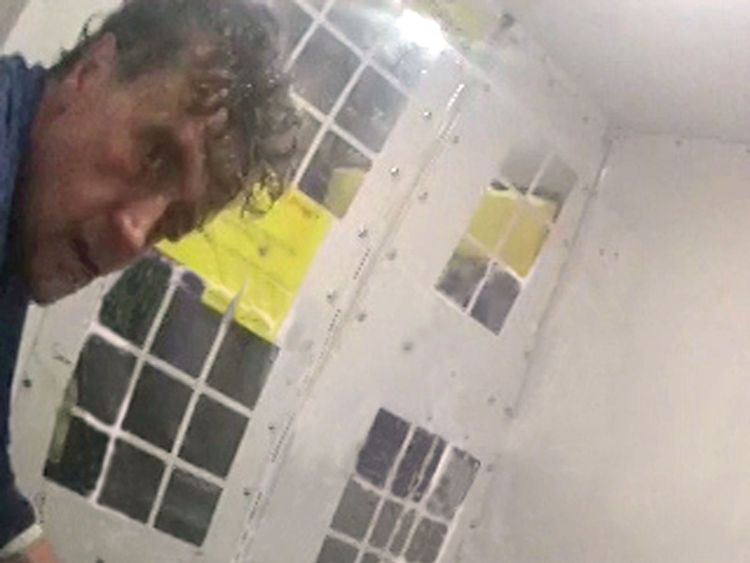 According to Osborne's long-term girlfriend, he developed his Islamophobic views in a relatively short time.
Sarah Andrews said Osborne had become "obsessed" with Muslims in the weeks leading up to his attack, having watched the BBC drama Three Girls about the Rochdale grooming scandal.
The programme aired in May, not long after the Westminster terror attack in March.
As Osborne became more extreme in his views, the UK was struck by two more attacks: Manchester in May, and London Bridge in June.
In her witness statement, Ms Andrews said her boyfriend was a "ticking time bomb", adding: "He seemed brainwashed and totally obsessed."
Mobile phones and tablets seized by police from Osborne's home showed internet searches for far-right groups, including Britain First and the English Defence League (EDL).
In the weeks leading up to the attack, Ms Andrews told police Osborne had been reading posts by former EDL leader Tommy Robinson, real name Stephen Yaxley-Lennon, on Twitter.
The court heard Osborne had also received mailing list emails from Mr Robinson and an automated direct message on Twitter from Britain First's deputy leader Jayda Fransen.
Osborne showed no remorse throughout his trial.
As the prosecution case came to a close, Osborne submitted a late defence statement claiming he planned the attack with "a guy called Dave" and another man called "Terry Jones".
Osborne said he had come up with the plan with "Dave" and "Terry" down their local pub.
Claiming "Dave" was driving the van when it struck the worshippers, Osborne added he was in the footwell of the vehicle and had no idea what was happening.
Asked many times where "Dave" is now and how it was possible for him to flee the scene without any cameras or witnesses seeing him, Osborne told the court: "He's like (the magician) 'Dynamo', an illusion.
"An illusionist. He can make himself vanish perhaps."
This story was branded "absurd" by prosecutors, who told Osborne: "This story is a total fabrication, isn't it? You invented 'Dave' and 'Terry', didn't you?"
Osborne refused to confirm this and at many points appeared to make jokes in court.
At one stage Osborne claimed he, "Dave" and "Terry" planned to form a Welsh far-right group called "The Taffia".
Multiple witnesses said Osborne was smiling after the attack.
"I've done my job," Osborne said to people as they held him and waited for police.
Osborne will be sentenced at a later date for what the prosecution described as an "act of terrorism".
SKY NEWS