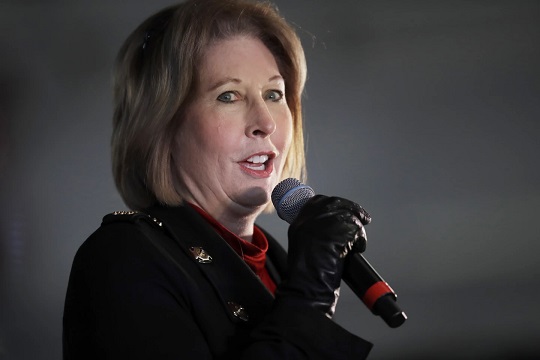 Former Donald Trump lawyer Sidney Powell has pleaded guilty to six charges in the Georgia election interference case.
Powell, who was charged alongside the former president, reached a deal with prosecutors and will now testify at future trials.
There are 19 defendants in the case, most of whom have pleaded not guilty.
Powell faced charges of conspiracy to commit intentional interference of election duties.
Her agreement to testify, in exchange for six years of probation, is a huge win for prosecutors in the sweeping case. Powell was intimately involved in Mr Trump's fight to overturn the state's results in the 2020 presidential election.
The deal also required her to record a proffer, essentially a verbal account of her activities, and to pay a fine and write an apology letter to Georgia citizens.
Powell entered her guilty plea in a downtown Atlanta courtroom on Thursday, a day before her trial was set to start.
Former federal prosecutor Neama Rahmani told the BBC it was unsurprising that she took a deal.
"If you're a criminal defendant who's never spent a night in jail and you're offered no time, you take it," Mr Rahmani said.
He added she may act as a "domino", with other defendants following her example.
"I think the other defendants have to be taking a long, hard look in the mirror and asking themselves, 'Hey, do I want to go to Georgia State Prison, or do I want to take this offer that's going to guarantee I do no time?'" he said.
Prosecutors have accused Powell of being among a group of Trump officials and supporters who breached the elections system in rural Coffee County, Georgia, in January 2021. They were trying to persuade officials and voters that the election had somehow been rigged against Mr Trump.
Specifically, Powell was accused of hiring a forensics team and sending it to Coffee County to illegally access government computers to look at voter data.
Prosecutors have said she conspired to tamper with voting machines, electronic ballots and voter data, have ballots taken from a polling place, and stop an election worker from doing her job.
Mr Trump has pleaded not guilty in the Georgia case. In total, the former president faces 13 felony counts – including racketeering – for allegedly pressuring state officials to reverse results in the presidential election.
He has repeatedly denied any wrongdoing, and has described the case as politically motivated.
Powell was one of the most visible, and vocal, supporters of his false claims about the 2020 election.
She notably appeared at a press conference with other Trump lawyers in November 2020, where she alleged, without evidence, that US voting machines run by Dominion Voting Systems can be hacked to "take a certain percentage of votes from President Trump and flip them to President (Joe) Biden".
At a White House meeting the following month, Mr Trump mulled appointing Powell as a special counsel to "investigate allegations of voter fraud in Georgia and elsewhere", prosecutors said.
The congressional committee investigating the 6 January Capitol riot featured her prominently in its televised hearings last year, showing she worked closely with Mr Trump and his aides on election overturning strategies.
Dominion has sued Powell for defamation, seeking $1.3bn (£1.07bn) in restitution.
Powell is the second person among the defendants to plead guilty in the Georgia election interference case.
Bail bondsman Scott Hall struck a plea deal with prosecutors in late September.
The former Republican poll watcher was also accused of trying to gain access to sensitive election equipment in Coffee County, Georgia.
As part of his deal, he was sentenced to five years probation. He is also required to testify against others in future trials.
Source: bbc.co.uk