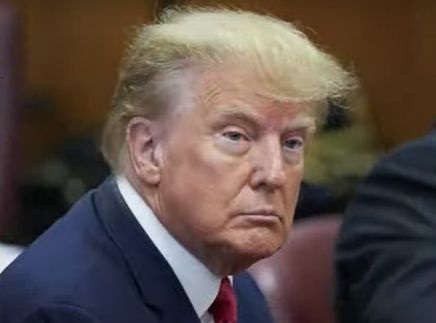 Donald Trump has been indicted on charges of mishandling classified documents at his Florida estate.
On Truth Social – the social media network he created – the former US president protested his innocence, attacked Joe Biden, and revealed he has been summoned to appear in court on Tuesday.
The indictment remains sealed – but a federal grand jury has reportedly charged him with seven criminal counts, including obstruction of justice.
According to NBC News, one of the charges against Trump is under the Espionage Act while the nature of the other six charges remain unclear.
Mr Trump is the first former president in American history to face criminal charges, and this is the second time he has been indicted.
It marks a fresh setback in the 76-year-old's campaign to be re-elected president in 2024.
On Truth Social, he wrote: "I never thought it possible that such a thing could happen to a former President of the United States, who received far more votes than any sitting President in the History of our Country, and is currently leading, by far, all Candidates, both Democrat and Republican, in Polls of the 2024 Presidential Election. I AM AN INNOCENT MAN!"
In a further post, he added: "This is indeed a DARK DAY for the United States of America. We are a country in serious and rapid decline, but together we will Make America Great Again!"
Mr Trump later posted a four-minute video of himself discussing the allegations, which he described as a "hoax" that amounts to election interference.
"We have such big problems – this shouldn't be one of them," he said in the clip.
"I'm an innocent man. I did nothing wrong. I will fight this, just like we've been fighting for seven years.
"I'm an innocent man, we will prove it again. Seven years of proving it and here we go again. Very unfair – but that's the way it is."
Read more:
Village People 'send cease and desist letter to Donald Trump'
Donald Trump calls sex accuser a 'wack job'
ANALYSIS: A SEISMIC NEW TURN IN THE TRUMP STORY

Mark Stone US correspondent @Stone_SkyNews

Make no mistake, the overnight developments are huge. They are historic and unprecedented.

Federal charges against a former president – legally and politically, this is a truly seismic new turn in the Trump story.

Even though we knew that a "special counsel" was looking into the case of the classified documents – and even though there was an expectation that charges might come – the fact they now have will rock this country.
House Republican conference chairwoman Elise Stefani was among those to criticise the news of the indictment – and accused government officials of an "endless illegal witch-hunt" against Mr Trump.
Meanwhile, the president's son Donald Trump Jr described the US as a "third-world Banana Republic" and accused the Department of Justice of election interference.
But New York Democrat congressman Adriano Espaillat wrote on Twitter: "A friendly reminder … no one is above the law. Not even a former president."
Sky's US correspondent Mark Stone said: "Legally this is a massive moment – politically this is a huge moment. Remember, Donald Trump is running for president again.
"He is far and away the frontrunner to be nominated for as the Republican nominee for president. He has a huge amount of support around the country.
"He is facing many different potential court cases – up in New York a couple of months ago he was indicted there for a 'hush money' case against an adult film star. He is back in court later this year on those charges.
"The difference though – and I think this is an important nuance – those weren't federal charges. This is a federal case against the former president."
Thursday's indictment comes after a months-long investigation by special counsel Jack Smith into whether Mr Trump broke the law by holding onto hundreds of documents marked classified at his Mar-a-Lago estate.
The investigation also examined whether the former president took steps to obstruct the government's efforts to recover the records.
Last August, the FBI carried out a raid on Mr Trump's Mar-a-Lago estate as part of an inquiry into whether he took the documents from the White House.
Officers seized 33 boxes containing more than 100 classified records during the search and found three confidential documents stashed in office drawers, a filing released last August revealed.
FBI and Justice Department officials had previously visited a storage room at the Florida estate in June after issuing a subpoena for the missing records.
The indictment comes less than three months after Mr Trump was charged in New York with 34 felony counts of falsifying business records.
Those counts relate to an alleged "hush money" payment to adult film actress Stormy Daniels during the 2016 presidential election campaign.
It was allegedly made in exchange for Ms Daniels' silence about an alleged sexual encounter she said she had with Mr Trump a decade earlier.
Mr Trump has denied having sex with Ms Daniels and has called the indictment "political persecution".
Source:  
news.sky.com