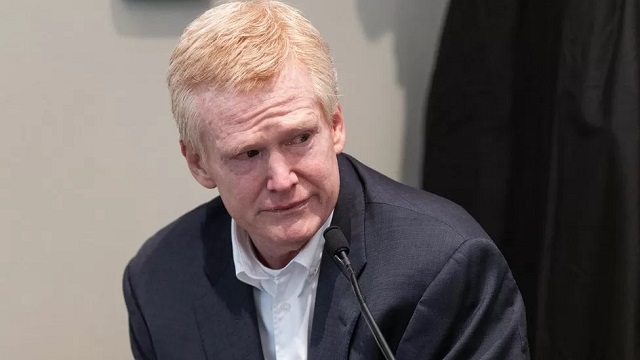 Alex Murdaugh, the disgraced South Carolina lawyer serving a life sentence for murder, has lost his phone privileges in prison after speaking to the media without permission.
The 55-year-old's lawyer recorded him reading his diary entries during a call in June, prison officials said.
The audio was then allegedly given to the producers of a forthcoming Fox Nation documentary about his case.
Murdaugh was convicted in March of killing his wife and younger son.
In a statement, a spokeswoman for South Carolina state prisons said "victims of crime should not have to see or hear the person who victimised them or their family member on the news".
Murdaugh was found to have violated two internal prison policies at a disciplinary hearing earlier this week.
As well as his phone, he will lose access to a tablet computer and will not be able to buy items from the prison canteen for a month.
Murdaugh was investigated after staff became aware in August that a call with his lawyer had been used for media purposes, the spokesperson said.
His phone privileges were suspended while the investigation took place, but he reportedly used another inmate's phone to make a call during this time.
Murdaugh's wife, Maggie, 52, and son Paul, 22, were shot at close range on their family estate on 7 June 2021. Prosecutors argued that he killed them to divert attention from his financial crimes and gain sympathy.
The trial involving the well-known legal dynasty in South Carolina gripped the US. Murdaugh was eventually sentenced to life in prison without parole.
He is expected to plead guilty in federal court next month to separate charges that he stole millions of dollars from clients, court records show.
Source: bbc.co.uk