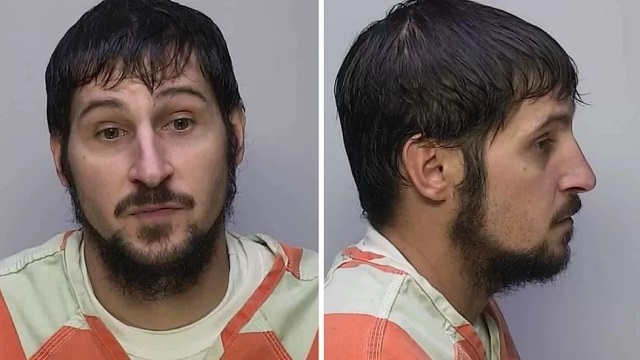 A suspected murderer with "survivalist skills" has broken out of a Pennsylvania jail by climbing on exercise equipment and is now the subject of a multi-state manhunt.
Michael Burnham escaped from a jail in Warren, near a huge forest, overnight on Thursday.
The public has been told to be vigilant and report suspicious people.
He was last seen wearing an orange-and-white striped jumpsuit, croc shoes and a jail-issued blue denim jacket.
Officials say the jail noticed he was missing on Friday morning, and that he managed to escape by climbing the equipment and exiting through a metal roof.
He then used bed sheets that he tied together to lower himself off the roof.
"We have no indication that he's being assisted by anyone at this point, but he is familiar [with] the area and… he is a survivalist and has survivalist skills," said Warren County spokeswoman Cecile Stelter.
The jail is located around 18 miles (28km) from Jamestown, New York, near the Pennsylvania border and is near the Allegheny National Forest.
The size of the forest is approximately 515,000 acres, according to the US Department of Agriculture, which oversees US national forests.
"Extensive searches of the area are still being conducted and a thorough investigation is ongoing," police said in a Facebook post on Friday.
They added that dogs, drones, aircrafts and all-terrain vehicles are being used in the search.
Residents have been told to lock their doors, stay inside, and not to make contact with the suspect if they see him.
"He is considered dangerous by his past actions and the public is asked not to approach him, but if they see anything unusual to call 911," Ms Stelter said.
Burham, 34, was being held on arson and burglary charges and was considered a suspect in the murder of a local woman. He has also been charged with rape, unlawful imprisonment, and multiple other charges.
In May, he was arrested in South Carolina after a four-day manhunt. He was taken into custody after two people called the FBI saying he had kidnapped them and drove them to the city of North Charleston from Pennsylvania.
Source: bbc.co.uk