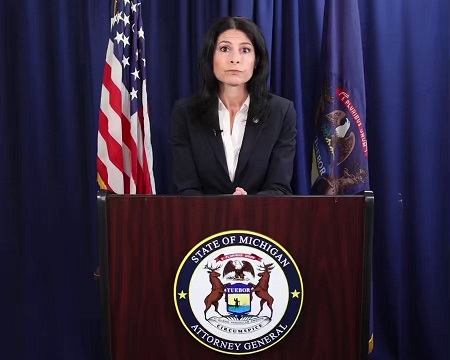 Michigan's attorney general has announced charges against 16 people for their role in an alleged false electors scheme after the 2020 election.
US presidents are technically elected by slates of electors in each state.
Dana Nessel, a Democrat and the state's top legal official, accused the 16 of falsely claiming Donald Trump had won the state in paperwork.
She claimed their alleged actions "undermined the public's faith" in election integrity.
Each of the defendants was charged with eight felony counts, including forgery and conspiracy to commit forgery, each carrying a possible penalty of up to 14 years in prison.
This is the first time anyone has been charged in the US in the alleged "false electors" scheme.
The group of Michigan residents participated in an "orchestrated plan", Ms Nessel alleged, in hopes of flipping the winner of Michigan from Joe Biden to Donald Trump.
The accused are said to have met in the basement of the Michigan Republican Party headquarters to sign multiple certificates claiming they were duly elected and qualified electors for president and vice-president.
"This was a lie. They weren't duly elected electors and each of the defendants knew it," Ms Nessel said.
"They carried out these actions with the hope and belief that the electoral votes of Michigan's 2020 election would be awarded to the candidate of their choosing, instead of the candidate Michigan voters actually chose."
According to the Democratic-led congressional committee that investigated the 6 January Capitol Hill riots and Mr Trump's efforts to overturn the election results, the fake electors scheme was an attempt to interfere in the Electoral College system that decides presidential elections.
It centred on an attempt to persuade Republican-controlled state legislatures in seven states to select Republican electors or not name any electors in states that Mr Biden won, according to the committee.
The falsified certificates were then transferred to the US Senate in an effort to have their votes counted in the place of Michigan's real electors, and overturn Mr Biden's win both in Michigan and nationwide, Ms Nessel said.
President Biden won the state of Michigan by approximately 154,000 votes, which helped carry him to victory.
The group of defendants includes Meshawn Maddock, 55, a former co-chair of the Michigan Republican party and the wife of a state representative. Others include Amy Facchinello, 55, of Grand Blanc – one of the youngest defendants – and John Haggard, 82, of Charlevoix, the oldest.
Ken Thompson, a current Republican official who is among those charged, said the prosecutors will fail to win convictions.
"Not one of these prosecutions has bite," he told Michigan news website MLive.com, describing the charges as a political propaganda campaign.
In the wake of his loss, the former president and his team launched a widespread effort to challenge the outcome of the election. Without evidence, Mr Trump continues to deny the 2020 results and Mr Biden's victory.
Source: bbc.co.uk