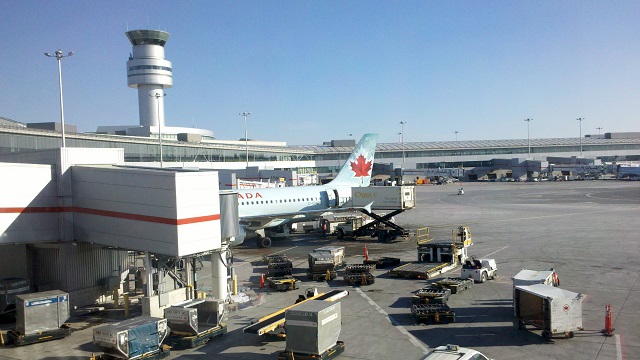 Police are investigating a massive gold heist at Toronto Pearson International Airport, a location often used to ship gold mined in the province of Ontario.
Canadian officials say more than C$20m ($15m, £12m) of gold and valuables were stolen on Monday 17 April.
An aircraft container carrying the goods arrived at the airport in the evening and was transported to a cargo holding facility.
Police believe that is where the heist took place.
The theft could mark one of the bigger heists in Canadian history, a list that includes the 2011 and 2012 Great Canadian Maple Syrup Heist when 3,000 tonnes of syrup valued at $18.7m were stolen from a storage facility in Quebec.
Peel Regional Police inspector Stephen Duivesteyn said their team is investigating "all avenues" and described Monday's incident as isolated and rare.
At a press conference on Thursday at the airport, Mr Duivesteyn said the missing aircraft container was about 5 sq ft (.46 sq m) in size, and "contained other items of monetary value" in addition to the gold.
Officials have refused to say what airline shipped the cargo, where the load had come from, or its intended destination.
"Our goal is to solve this theft," Mr Duivesteyn said. "We want to solve it. I cannot provide exact details."
But travellers are not in danger, he continued. "We do not consider this a public safety matter."
The Toronto Sun reported earlier on Thursday that police thought organised crime groups were involved. Mr Duivesteyn said it was too early to tell.
"We're three days in, so our investigators have their eyes open to all avenues," he said. "We're kind of keeping a broad outlook on it, so we're looking on all angles on how this item was stolen."
In a statement, the airport said that thieves did not gain access to the airport itself but "accessed the public side of a warehouse that is leased to a third party, outside of our primary security line".
It is not the first heist of its kind in Canada
The theft, which is still under investigation, was an isolated and "very rare" incident, police say. While a heist of that magnitude is indeed rare, a look at Canadian history shows it's not the first.
The Toronto Pearson International Airport has often been used as a hub for gold mined in the province of Ontario, and in September 1952 it was the scene of a mysterious heist.
Back then, Pearson was known by another name: Malton Airport. It is where thieves managed to steal about C$215,000-worth of gold bars (valued at about C$2.5m today).
The gold was stored in a steel mesh wire cage before it was loaded to a Montreal-bound plane. From there, it was destined to be shipped to the UK.
But when the plane arrived in Montreal, there were only four boxes of gold bullion out of 10.
The gold "just seemed to vanish", a police officer told reporters at the time.
"Theft happens all the time at airports," says Stacey Porter, an independent security consultant who conducts security risk assessments for airports.
Airports are large facilities with lots of potential security vulnerabilities, especially in areas where bags and cargo are kept, he says.
Cameras capture every moment that passengers spend inside airports, but luggage – both commercial airline cargo and larger shipments made by businesses – are often kept in darkened warehouses that may not have much video surveillance.
A Flying Bandit in Winnipeg and a Stopwatch Gang in Ottawa
Leishman, a thief nicknamed the Flying Bandit, caught wind of the fact that Winnipeg was a transit city for gold mined in northwestern Ontario, where it would then be shipped to Ottawa.
To carry out the robbery, Leishman recruited a team of criminals to pose as gold salespeople and airline employees, and they were able to determine the timing of an upcoming shipment and infiltrate airport security.
With the help of fake paperwork, Leishman and his accomplices managed to get their hands on the shipment and successfully fled the tarmac with the gold.
But they were caught a few days later and Leishman was jailed.
Notably, Leishman turned his life around. The trained pilot flew patients from remote areas to city hospitals after his release from prison and died a tragic death in a plane crash in 1979.
Mr Porter says it is not surprising to see thieves being helped by an employee on the inside.
As the investigation into the Toronto gold heist unfolds, he says, detectives will be looking closely at any workers who had security access to the areas where valuables were being kept.
And for a sum like C$20m, he says even the captain of the plane could come under suspicion.
Eight years after the Winnipeg robbery, in 1974, an even larger gold heist followed, this time at the Ottawa International Airport.
The gang threatened a lone security guard at gunpoint in the middle of the night and then handcuffed him to a pipe before getting a hold of the gold, which was stored inside a cage at a freight terminal secured by a small padlock.
The trio were eventually caught, only to escape from prison and carry out more robberies in the US before they were arrested by FBI agents.
While Canada has an impressive history of gold heists, none come quite close to one that has been dubbed the "Crime of the Century" in the UK, involving the theft of gold bullion in November 1983, valued then at £26m.
In today's currency, that amount is worth around £112m, or C$188m in Canadian dollars.
The robbery unfolded after six armed men broke into the Brink's-Mat depot near London's Heathrow Airport, with the help of one of the security guards who was in on the theft.
They were expecting to find large sums of foreign currency. Instead, they stumbled on precious gold, diamonds and cash.
The theft led police on a lengthy chase to find all of those who were involved, as the criminals enlisted the help of others to help turn the gold into cash.
Many murders over the years have been linked back to the robbery, as well as a few suicides. Much of the gold has never been recovered and four out of the six original robbers were never convicted.
The heist was one of the largest in world history at the time, and had a lasting impact on both the British public and police.