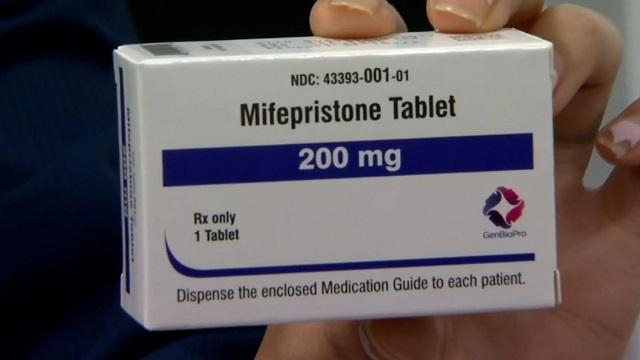 The US Supreme Court has temporarily blocked a court decision that would halt the approval of the abortion pill mifepristone.
A judge said current rules over access to the drug – used in the most common method of abortion in the country – should be preserved until Wednesday at the earliest.
The postponement is to allow the Supreme Court to more fully consider the issues raised in a challenge.
It comes after District Judge Matthew Kacsmaryk, a devout Christian and a Trump administration appointee in Amarillo, Texas, signed an injunction directing the Food and Drug Administration to halt the pill's approval while a lawsuit challenging its safety continues.
The US Justice Department has appealed the ruling, warning of "regulatory chaos" and potential harm to women.
The Biden administration, alongside the pill's maker, Danco, now wants a more lasting order that would keep the current rules in place as long as the legal fight over mifepristone continues.
Conservative Christian group, Alliance Defending Freedom, brought the Texas lawsuit alleging the drug was not being regulated properly.
The drug, which blocks the hormone needed to maintain a pregnancy, has been widely used in the US since its approval by the FDA in 2000.
Read more on Sky News:
US court partially blocks judge's ruling on abortion pill mifepristone
What is the abortion drug and why could it be banned in the US?
It is used in more than 60 countries worldwide – and when taken together with the drug misoprostol, accounts for more than half of abortions in the US.
But last week's ruling in Texas has left its future use in the US up in the air.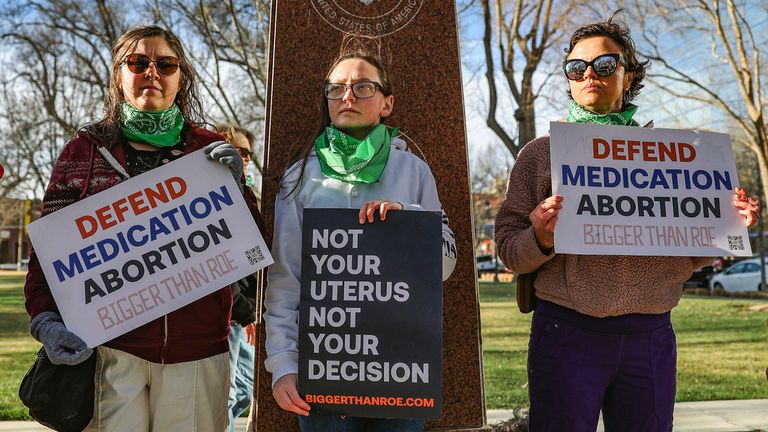 It was superseded by a further ruling from the 5th US Circuit Court of Appeals in New Orleans on Thursday.
Unless the Supreme Court extends its intervention, it means those seeking to obtain mifepristone will be required to make an in-person visit to a doctor, preventing women from obtaining it via post.
The drug will also only be available during the first seven weeks of pregnancy, down from the current 10-week period.
President Biden has already said his administration will fight the Texas ruling, which comes after the US Supreme Court's decision to overturn Roe v Wade June last year.
Source:  
news.sky.com