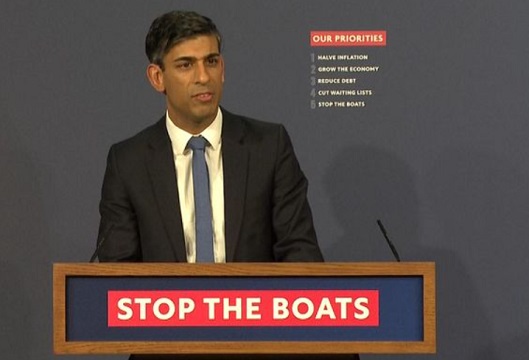 Rishi Sunak has said the crackdown on small boats crossing the Channel is needed as the current system that is being exploited is "unfair on the British people".
The prime minister described the new Illegal Migration Bill as "tough, but it is necessary and it is fair".
"This will always be a compassionate and generous country… but the current situation is neither moral nor sustainable, it cannot go on. It is completely unfair on the British people."
As Mr Sunak spoke, the UN Refugee Agency said it is "profoundly concerned" by the government's plans which it said would "amount to an asylum ban".
But Mr Sunak insisted "we have tried it every other way, and it hasn't worked".
The prime minister was speaking from Downing Street after Suella Braverman, the home secretary, unveiled new legislation that will mean people arriving on small boats in the UK will be detained and removed and banned from ever returning.
Mr Sunak confirmed that the rules would apply retrospectively, affecting everyone arriving in the UK illegally from Tuesday.
Speaking earlier in Dover to mark the announcement, he said removals could happen "within weeks".
"We will detain those who come here illegally and then remove them in weeks, either to their own country if it is safe to do so or to a safe third country like Rwanda," he said.
The government has admitted the bill might not be compatible with international human rights laws – but the prime minister told the press conference he is "up for the fight" in the courts "and we are confident we will win".
Responding to a question by Sky News about where predecessors went wrong and why this policy is different, Mr Sunak said: "This is not about dwelling on the past because the situation has just got far worse.
"In the last two years the numbers of people crossing the Channel illegally has more than quadrupled. That is the scale of what is happening.
"It's not just us, this is happening across Europe… that's because globally this is a challenge."
When pressed on what success would look like, the prime minister refused to set specific targets, saying it is "us stopping the boats" and "having a system where people coming here illegally are returned".
"And if we can get that working… we will see the numbers come down," he said.
Under the proposed plan:
People arriving on small boats will be detained within the first 28 days without bail or judicial review and can be detained after that if there is a reasonable prospect of removal
The onus to remove those who enter illegally will be on the home secretary – to "radically" narrow the number of challenges and appeals
Only those under 18, those medically unfit to fly or at "real risk" of serious harm in the country they are removed to will be able to lodge an appeal to stop them from being deported
Any other claims, including the right to private or family life, will be heard remotely after they have been removed
People will be prevented from using modern slavery laws to oppose their removal
Deportation can only be deferred for modern slavery when a person is cooperating with law enforcement agencies in trafficking investigations
An annual cap on the number of people entering via safe routes – to be set by parliament – will "ensure an orderly system"
A lifetime ban on settlement, citizenship and re-entry to the UK for those removed under the scheme.
UN: 'Bill amounts to asylum ban'
The bill has attracted a wave of criticism from charities, opposition MPs and human rights lawyers.
The UN's refugee agency, the UNHCR, said in a lengthy statement that if the legislation is passed it "would amount to an asylum ban – extinguishing the right to seek refugee protection in the United Kingdom for those who arrive irregularly, no matter how genuine and compelling their claim may be, and with no consideration of their individual circumstances".
The statement said this would "be a clear breach of the Refugee Convention and would undermine a longstanding humanitarian tradition of which the British people are rightly proud".
Enver Solomon, chief executive of the Refugee Council, suggested the plans were "more akin to authoritarian nations" such as Russia and insisted the proposals would not stop desperate people crossing in small boats but would instead leave "traumatised people locked up in a state of misery being treated as criminals and suspected terrorists without a fair hearing on our soil".
He added the new legislation "ignores the fundamental point that most of the people in small boats are men, women and children escaping terror and bloodshed from countries including Afghanistan, Iran and Syria".
Read more:
Do refugees have a 'safe and legal' route to the UK?
PM will hope trying to stop Channel crossings will show voters Tories are tough on immigration
Earlier, Ms Braverman told the Commons that she "can't say definitively" if the new bill complies with the European Convention on Human Rights (ECHR), which the UK is part of.
Mr Sunak insisted there is "absolutely nothing improper or unprecedented" about pursuing legislation with a warning that they may not be compatible with the ECHR, adding: "We believe we are acting in compliance with international law, in compliance with the ECHR, and if challenged… we will fight that hard because we believe we're doing the right thing and it is compliant with our obligations."
Officials indicated hopes of the bill being passed by the end of the year, which could see it in force ahead of any anticipated 2024 election.
Mr Sunak has staked his premiership on curbing Channel crossings, among four other priorities.
In 2022, a record 45,755 migrants arrived in the UK after crossing the Channel, while more than 3,000 have made the journey so far this year.
Source:  
news.sky.com