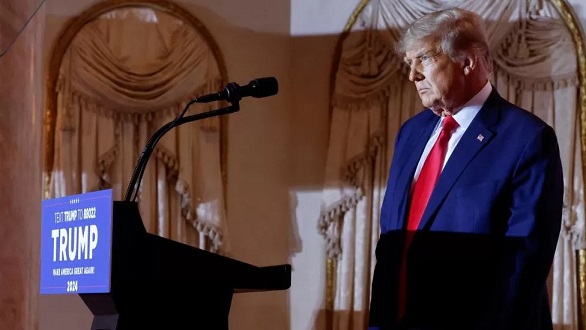 Donald Trump has withdrawn a lawsuit against New York Attorney General Letitia James after a judge accused him of using the courts to seek revenge.
The lawsuit accused Ms James of conducting a "war of intimidation" against the former president.
An ongoing $250m (£202m) lawsuit launched by Ms James accuses Mr Trump's family company – the Trump Organization – of committing fraud over a decade.
The BBC has contacted Mr Trump and his legal team for comment.
Mr Trump's lawsuit was withdrawn on Friday, less than a day after he was rebuked by US District Judge Donald Middlebrooks who said it bordered on "frivolous".
The judge added that the former president had repeatedly used the courts to "seek revenge on political adversaries".
He ordered Mr Trump to pay nearly $1m (£809,190) for another lawsuit filed against Hillary Clinton, which accused her and others of conspiring to "weave a false narrative" during the 2016 election that his campaign was colluding with Russia.
That lawsuit was dismissed in September, and Mr Trump was later fined after one defendant sought sanctions. The latest order came after a group of defendants, including Mrs Clinton, filed a new request for sanctions.
In the ruling, Judge Middlebrooks called Mr Trump a "mastermind of strategic abuse of the judicial process" and said the lawsuit showed "inadequacy as a legal claim" and was intended for a "political purpose".
"No reasonable lawyer would have filed it," he said. "This case should never have been brought."
The judge ordered Mr Trump and his lawyer, Alina Habba, and her firm, Habba Madaio & Associates, to jointly pay $937,989.39 in fines.
Judge Middlebrooks also warned at the time that Mr Trump could face further sanctions over his lawsuit against Ms James.
Ms James has not commented.
Source: bbc.co.uk