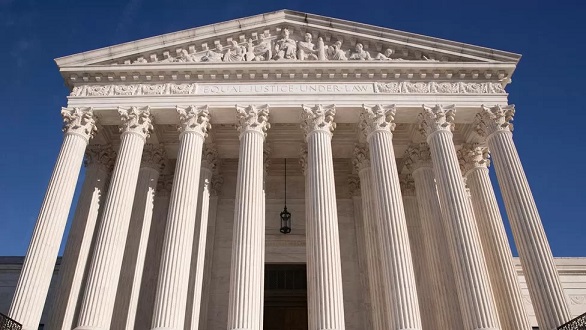 The US Supreme Court has said a Texas death row inmate's conviction should be reviewed after the DNA evidence used at his trial was found to be suspect.
Areli Carbajal Escobar was convicted of murdering Bianca Maldonado Hernandez, 17, and sentenced to death in 2011.
The lab used to process the crime scene evidence has since been shut down over quality concerns.
In an unusual move, the prosecutor who sent him to death row wrote a letter on his behalf to the Supreme Court.
"In all cases, but especially when a person is facing the death penalty, it is imperative that stakeholders have faith in the conviction," Travis County District Attorney Jose Garza told the BBC in an email.
Escobar lived in the same building as Ms Hernandez. During his original trial, a jury heard testimony from his girlfriend, who said she heard the sounds of a woman being raped when she called him on his cellphone. Prosecutors also presented fingerprint and DNA evidence from the crime scene.
Ms Hernandez was stabbed 46 times.
But in 2016, an audit of the Austin Police Department's DNA lab found that the lab was using bad science, technicians were using expired materials, and at least one instance of evidence contamination. The lab was shut down, and in 2021 the city voted to transfer it out of police control to have independent oversight.
A lower court had previously agreed that the evidence used in Escobar's death sentence trial was unreliable, and that his conviction should be overturned. But the Texas Court of Criminal Appeals ruled that the DNA evidence was not central to his conviction, and reversed the lower court's decision.
Escobar has since been trying to appeal his conviction, garnering the support of Mr Garza, who filed a brief to the Supreme Court in support of a new trial.
"The State had offered flawed and misleading forensic evidence at Petitioner's trial and this evidence was material to the outcome of his case in violation of clearly established federal due process law," he wrote.
On Monday, the US Supreme Court instructed the Texas Court of Criminal Appeals to reconsider "in light of the confession of error by Texas".
In 2017, when Escobar first began his appeal, the victim's family said they were distressed by the prospect of another trial.
"I feel sad about all of this because I know we have to start over again, I know this is going to be hard not only for us but all of our family and people who know my sister," Magaly Maldonado, the victim's younger sister, told a local NBC affiliate. "This is going to bring tears again, it's going to be really hard."
It is not common for prosecutors to want their convictions to be overturned. Although Mr Garza's support means Escobar will have a shot at a new trial, there is precedent in Texas for the Court of Criminal Appeals to disregard such acts of prosecutorial humility.
In 2017, prosecutors sided with death row convict Bobby Moore, agreeing he was mentally disabled and thus should not be executed. The Supreme Court ordered the Court of Appeals to reconsider the evidence that he was mentally disabled, but the Appeals Court still decided he was fit for execution. It took a second appeal to the Supreme Court to spare him his life.
Source: bbc.co.uk