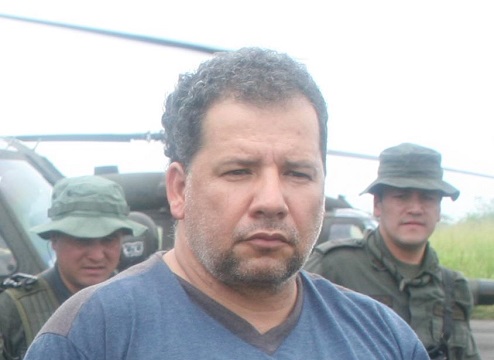 A court in New York has sentenced an infamous Colombian paramilitary leader and drug kingpin to 35 years in jail.
Daniel Rendón Herrera, better known as Don Mario, led the right-wing paramilitary group United Self-Defence Forces (AUC).
The group, originally formed to combat left-wing guerrillas, engaged in kidnappings, killings, and extortion.
Don Mario, 57, was captured in a rural hideaway in 2009. At the time, he was the most wanted kingpin in Colombia.
He was extradited to the United States in 2018 and last year pleaded guilty to trafficking more than 80 tonnes of cocaine to the US.
Daniel Rendón Herrera and his brother Freddy, known as El Alemán (The German) for his love of imposing strict discipline on his men, were key players in the AUC.
As part of that paramilitary group, they led thousands of fighters who attacked and killed anyone they deemed a sympathiser of Colombia's left-wing rebel groups.
In order to finance itself, the AUC imposed taxes on cocaine smuggled through territories it controlled and also engaged in drug trafficking.
AUC members were behind some of Colombia's most gruesome massacres. Tens of thousands of Colombians were displaced by the group's violence.
Many of the group's members, including Freddy Rendón Herrera, demobilised under a 2003 peace deal.
But unlike his brother, Don Mario refused to lay down arms and instead co-founded the Gulf Clan criminal gang.
Under his leadership, the Gulf Clan became the most feared gang in Colombia, trafficking tonnes of cocaine to the US and killing anyone who stood in its way.
As police stepped up their hunt for Don Mario in 2009, he offered a $1,000 reward to anyone who killed a police officer.
After a nine-month search, he was tracked down in Antioquia province.
The defence minister at the time, Juan Manuel Santos, said he had been found in his underwear, eating rice from a plate "like a dog".
US Drug Enforcement Administration agents described him as "one of the most prolific drug traffickers to ever operate in Colombia".
Don Mario's brother, Freddy Rendón Herrera, was freed from prison in 2017 and has asked for forgiveness for recruiting hundreds of children into the ranks of the AUC during his time as a leader of the group.
Source: bbc.co.uk