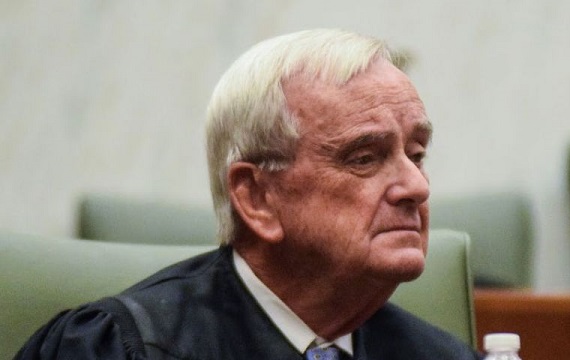 A veteran New York judge will review the classified files seized by the FBI from former President Donald Trump's Florida estate last month.
Judge Raymond Dearie, 78, will serve as the so-called special master – an independent lawyer tasked with deciding if any of the documents will be off limits in future legal proceedings.
He must present his findings by November.
Mr Trump's legal team had requested a special master and proposed Mr Dearie.
And while the Department of Justice initially opposed the suggestion, it did not raise an issue with Mr Dearie's candidacy. It had, however, opposed other candidates it said lacked relevant experience.
Mr Dearie, who has presided over numerous high-profile cases in one of the country's busiest legal districts, will now be given access to the entire inventory of 11,000 documents taken from Mr Trump's Mar-a-Lago estate on 8 August. Of these, around 100 are said to be marked as classified.
The search was part of a criminal investigation into the former president's handling of classified materials, and whether he improperly removed records from the White House and took them to Mar-a-Lago.
The authorities say these documents should have been handed over to the National Archives – which US presidents are legally obliged to do once they leave office.
But Mr Trump, who has repeatedly denied wrongdoing, has argued that some of the documents are protected by privilege. This means they cannot be used in potential legal proceedings and it is up to Mr Dearie to decide if this is the case.
The former president has not addressed directly why the files were at Mar-a-Lago. He has said he declassified the documents while president, but there are questions over whether this is legally relevant and if the formal process was followed.
On Thursday, US federal Judge Aileen Cannon appointed Mr Dearie and also said the government could not use the seized materials for its investigation until the special master's independent review was complete.
The justice department had earlier said it would appeal the restrictions on its use of the documents. Whether or not an appeal is filed, the latest developments will almost certainly slow the department's criminal investigation.
Mr Dearie has previously served on the United States Foreign Intelligence Surveillance Court. This secretive court handles requests by investigators for surveillance warrants against suspected spies and foreign agents in the US.
He was one of the judges who signed off on a request from the FBI and Department of Justice to monitor Mr Trump's former campaign adviser, Carter Page, as part of the investigation into Russian interference in the 2016 election.
Despite this, he was still put forward as a candidate by Mr Trump's lawyers.
"It speaks volumes that Trump proposed him and the justice department did not object," Steve Gold, a law professor who previously worked as a clerk for Mr Dearie, told the BBC. "He has handled major cases and intense media interest."
Trump records probe timeline
January 2022 – The National Archives retrieves 15 boxes of White House records from Mar-a-Lago, and says some of the documents it received at the end of Trump administration had been torn up
February – Reports emerge that classified files were found in the Mar-a-Lago cache and National Archives has asked DoJ to investigate
April – US media report the FBI has begun a preliminary investigation
3 June – A senior DoJ official and three FBI agents travel to Mar-a-Lago to review items in a basement. According to Mr Trump, he told them: "Whatever you need, just let us know"
8 June – Federal investigators write to a Trump aide to ask that a stronger lock be used to secure the room storing the items. Trump says that request was quickly fulfilled
22 June – The Trump Organization receives a DoJ summons for CCTV footage from Mar-a-Lago
8 August – Dozens of agents search Mar-a-Lago, seizing more than 33 boxes, some containing top secret files, according to the warrant
12 August – Warrant released, showing that 11 sets of classified documents were taken
25 August – Judge orders justice department to release a redacted version of court papers that convinced him to authorise a search of the Trump estate
5 September – Judge grants Mr Trump's demand for a "special master" to oversee the case into his handling of classified materials
Source: bbc.co.uk