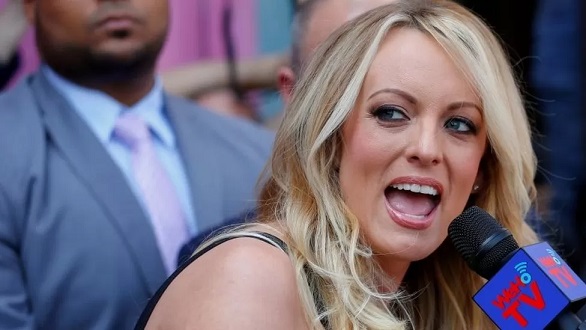 New York prosecutors have invited ex-US president Donald Trump to testify to a grand jury over the Stormy Daniels case, his lawyer has confirmed.
The Manhattan district attorney has investigated Mr Trump for five years over alleged hush money payments made on his behalf to the ex-porn star.
Inviting him to a grand jury indicates he could face charges, US media report.
Ms Daniels says she got $130,000 before the 2016 election in exchange for silence about an alleged affair.
Mr Trump denies they had sexual relations.
A grand jury is set up by a prosecutor to determine whether there is enough evidence to pursue charges in a case.
It is held in secret, and several former aides of Mr Trump have reportedly testified in this case.
If prosecutors proceed, it could be the first criminal case ever brought against a former US president.
It is one of several in which Mr Trump is currently being investigated, although he has not yet been charged in any and denies wrongdoing in each.
They come as the 76-year-old Republican embarks on another campaign for the White House.
Prosecutors have not commented on news of the invitation, reported in US media and confirmed by Mr Trump's legal team.
It is unclear what charges he may face. Joseph Tacopina, a member of the team, told AP news agency that there was no legal basis for a case and that he did not believe prosecutors had made a decision on charges "one way or another".
And on his social media network Truth Social, Mr Trump himself called the investigation a political witch-hunt by what he described as a "corrupt, depraved, and weaponised justice system".
The case stemmed from an allegation that Mr Trump directed his former lawyer to pay Stormy Daniels, an adult film actress, to stop her speaking out about an alleged affair.
The lawyer, Michael Cohen, was later jailed on multiple charges.
Cohen testified under oath that Mr Trump had directed him to make the payment of $130,000 (£110,000) just days before the 2016 election.
Mr Trump has acknowledged reimbursing the payment but denied the affair and any wrongdoing regarding campaign laws.
The case centres on Mr Trump's alleged role in covering up the payment by falsifying his business accounts.
According to the New York Times, which first reported the story, being invited to testify to a grand jury in New York often precedes an indictment.
The paper said it is a voluntary offer and likely to be declined by Mr Trump.
Legal wrangling over the allegations were ongoing throughout the Trump presidency.
A federal inquiry into the Stormy Daniels case was dropped in 2021 after he left office but Manhattan District Attorney's Office has been running a separate investigation since 2018.
Source: bbc.co.uk