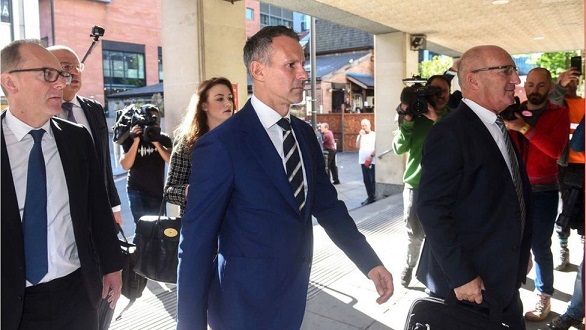 The jury in the trial of former Manchester United player Ryan Giggs has been discharged after failing to reach verdicts on any of the charges.
The 48-year-old denied headbutting ex-partner Kate Greville, 38, during a row at his home in November 2020.
He also denied controlling behaviour, as well as assaulting Ms Greville's sister Emma, 26, at Manchester Crown Court.
Any retrial will not take place until at least 5 June 2023, the judge said.
Mr Giggs' head dropped when he heard how long it could take for the case to conclude.
The jury had failed to reach a verdict on any of three charges against Mr Giggs, who was Wales manager until he resigned in June, after deliberating for 22 hours and 59 minutes.
Judge Hilary Manley asked jurors if they had reached a verdict on any counts on which a majority of 10 to one had agreed.
The foreman of the jury answered: "No."
Asked if there was any "realistic prospect" of them reaching verdicts if given more time, the foreman again answered: "No."
She then thanked the jurors and discharged them, warning them not to discuss the case as there may be another trial of the case in the future.
Judge Manley said "it was clear they had striven hard to reach verdicts" and should not feel "dispirited".
The former Manchester United footballer had been on trial for four weeks.
The Crown Prosecution Service has a week to decide whether to pursue a retrial.
If this happens, a new jury would be sworn in, which will hear the evidence as part of a new trial.
Mr Giggs has been released on bail until 7 September, when what happens next in the case will be discussed at a hearing.
At the start of the trial, Peter Wright QC, prosecuting, called it a story of "control and coercion" of a woman who thought she was "loved and respected".
Mr Giggs admitted to being unfaithful in relationships but, when asked if he had ever physically assaulted a woman, he said "no", adding that he had never set out to control or coerce a woman.
A social media post brought to the attention of Judge Manley on 10 August, a couple of days into the trial, has been referred to the Attorney General as a possible Contempt of Court, she said.
Source: bbc.co.uk