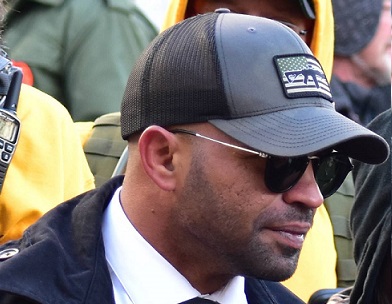 The leader of the far-right Proud Boys group has been charged with seditious conspiracy over last year's attack on the US Capitol.
Enrique Tarrio was among five members of the group to be indicted for attempting to oppose by force the presidential transfer of power.
Ex-President Donald Trump's supporters stormed Congress as it met to certify Joe Biden's victory in January 2021.
It is the second time the sedition charge has been applied over the riot.
Leaders of the far-right militia group the Oath Keepers were indicted on sedition charges in January.
In total, more than 860 people in 48 states have been charged with crimes connected with the riot.
Seditious conspiracy is a Civil War-era charge that carries up to 20 years in prison.
Along with co-defendants Dominic Pezzola, Ethan Nordean, Joseph Biggs and Zachary Rehl, Tarrio, 38, had earlier pleaded not guilty to conspiracy charges relating to the Capitol attack.
But Monday's grand jury indictment goes a step further, alleging the five men were ready "to oppose by force the authority of the government".
Charles Donohoe, a North Carolina-based Proud Boy, pleaded guilty to conspiracy and assault charges in April and agreed to cooperate with the investigation. He was not named in the new indictment.
According to the filing, Tarrio and other Proud Boys used encrypted communications to plan the attack.
They are said to have encouraged members to attend the rally on 6 January 2021, and crowd-funded online to buy protective gear and cover travel expenses to Washington DC.
In one text message on the day of the riot, Tarrio appeared to compare the attack on the Capitol to the storming of the Winter Palace during the Russian Revolution in 1917, say prosecutors.
Lawyers for each defendant have however maintained in court that their clients had no plan when they stormed the congressional building.
While members of the Proud Boys participated in the attack, Tarrio – who has led the group since 2018 – did not.
The Floridian had been arrested two days earlier for carrying two high-capacity rifle magazines as well as burning a Black Lives Matter banner taken from a church in Washington DC during a rally in December 2020.
In August, he was sentenced to five months in jail over the incident.
Source: bbc.co.uk