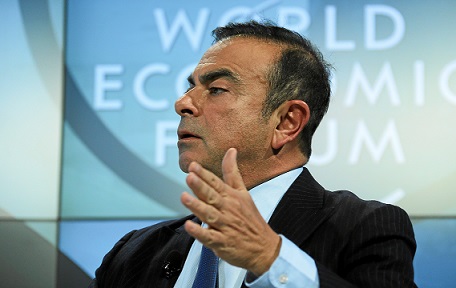 Former car executive Carlos Ghosn is "surprised" by reports France has issued an international warrant for his arrest, his spokesman has said.
"This is surprising, Ghosn has always co-operated with French authorities," he said on Friday.
Prosecutors have reportedly issued a warrant against Mr Ghosn and four others over €15m (£12.6m) in potentially suspect payments.
Mr Ghosn faced charges of financial misconduct when he fled Japan in 2019.
Carlos Ghosn, the former head of Nissan as well as an alliance between Renault, Nissan and Mitsubishi Motors, was first arrested on charges of financial misconduct in 2018, for allegedly under-reporting his pay package for the five years to 2015. He denied any wrongdoing.
He previously spoke of his dramatic escape from Japan, which involved disguising himself to go unnoticed through the streets of Tokyo, being hidden in a large music equipment box and fleeing to his native Lebanon as he awaited trial.
An investigating magistrate in France has now reportedly issued five international arrest warrants against Mr Ghosn and four people linked to a car distributor in Oman.
Prosecutors allege Mr Ghosn funnelled funds from Renault through Suhail Bahwan Automobiles, according to reports first published by the Wall Street Journal.
He used the money for personal purchases including that of a 120-foot yacht, the report says.
His lawyer, Jean Tamalet at King & Spalding, told the BBC that the arrest warrant issued by the prosecutor's office in the Paris suburb of Nanterre was part of an investigation that had been going on for some time.
He said: "Mr Ghosn is not under examination. This warrant is therefore surprising because the investigating judge and the Nanterre prosecutor know perfectly well that Carlos Ghosn, who has always co-operated with the French justice authorities, is subject to a judicial ban on leaving the Lebanese territory.
"We believe this move is the only technical resort they found to be able in the future to try the case in a court of law," he added.
The French investigation reportedly centres on alleged improper financial interactions with Renault-Nissan's distributor in Oman, payments by a Dutch subsidiary to consultants, as well as looking at lavish parties organised at the Versailles Palace.
Mr Ghosn, who holds Brazilian, Lebanese and French passports, cannot be extradited to France from Beirut, although it has been reported that he has been questioned as part of the investigation.
Warrants were also issued against the current owners and former directors of the car distributor, Suhail Bahwan Automobiles.
The Omani firm did not immediately respond to a BBC request for comment.
Source: bbc.co.uk