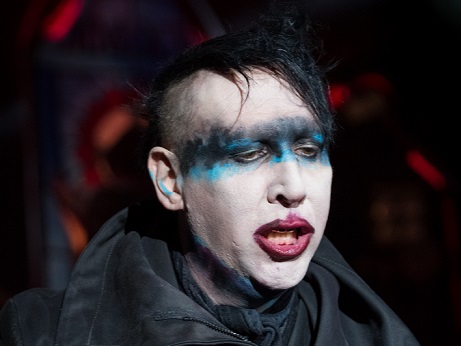 Game of Thrones actress Esmé Bianco has sued singer Marilyn Manson, alleging sexual assault and battery.
The lawsuit claims Mr Manson coerced the British actress with "drugs, force, and threats of force".
The plaintiff also alleges the singer and his manager broke trafficking laws by luring her from London to the US with empty promises of work.
The artist has rejected multiple allegations of abuse against him as "horrible distortions of reality".
He has been dropped by his record label and booking agent since the claims surfaced.
In February, Westworld actress Evan Rachel Wood publicly accused Mr Manson of domestic abuse. More than a dozen other women have since come forward with similar allegations.
In an Instagram post on 1 February, Mr Manson wrote: "Obviously, my art and my life have long been magnets for controversy but these recent claims about me are horrible distortions of reality. My intimate relationships have always been entirely consensual with like-minded partners."
Ms Bianco, who played Ros on the hit HBO drama Game of Thrones, was among a handful of women who spoke out against Mr Manson earlier this year.
Her court filing on Friday marks the first legal action over such allegations against Mr Manson, who is referred to in the lawsuit by his real name, Brian Warner.
Ms Bianco says she met the rocker in 2005. The lawsuit says that in February 2009, he invited her to Los Angeles to film a music video. But when Ms Bianco arrived she says she found she was expected to stay at his home and there was no film crew. The plaintiff alleges she was deprived of food and sleep and given drugs and alcohol during her four-day stay.
"Perhaps most horrifyingly," the lawsuit continues, "Mr Warner locked Ms Bianco in the bedroom, tied her to a prayer kneeler, and beat her with a whip that Mr Warner said was utilised by the Nazis. He also electrocuted her."
The legal action says they began a consensual sexual relationship in May 2009 and maintained a long-distance relationship until 2011.
In her complaint, Ms Bianco says Mr Manson coerced her into sexual intercourse that was often violent and degrading, sometimes even when she was unconscious or otherwise unable to consent.
The plaintiff alleges Mr Manson committed multiple acts of sexual battery against her in 2011 and raped her in May of that year.
The suit also accuses Tony Ciulla, who managed Mr Manson for more than 25 years before dropping him this February, of "supporting [Mr Manson's] violent tendencies" and allegedly violating US human trafficking laws.
It says the duo coaxed Ms Bianco to the US with job opportunities that never materialised, made her perform "unpaid labour" on several occasions and interfered with her visa process.
Mr Ciulla did not immediately respond to a request for comment from the BBC.
The BBC contacted Mr Manson's former agents and an attorney who has previously represented him, but did not receive an immediate reply.
"Mr Warner implied that because he had brought Ms Bianco to the United States and provided housing, she owed him labour and sexual intimacy," notes the lawsuit.
It adds: "My hope is that by raising [my voice], I will help to stop Brian Warner from shattering any more lives and empower other victims to seek their own small measure of justice."
Source: bbc.co.uk