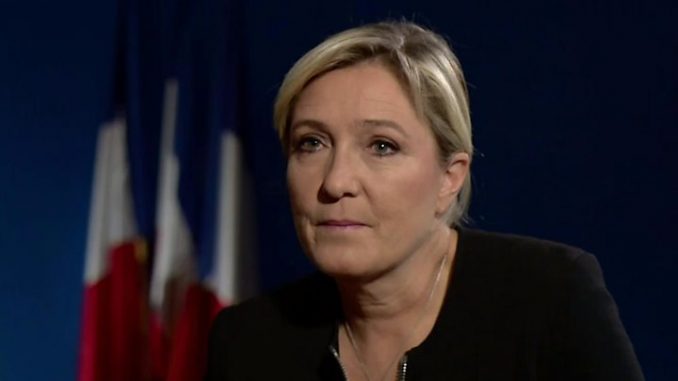 French far-right leader Marine Le Pen has gone on trial near Paris, accused of breaking hate speech laws when she posted pictures of murders carried out by jihadist group Islamic State.
As she arrived in court she condemned the trial as politically motivated.
The National Rally leader is riding high in the polls and is expected to be Emmanuel Macron's main challenger in the 2022 presidential election.
Mr Macron easily won the 2017 race but next year's is set to be far closer.
The IS tweets case has dragged on for years and was delayed because of the pandemic.
Ms Le Pen tweeted three gruesome pictures of IS killings in 2015, including one showing the body of James Foley, a talented American journalist abducted in Syria while reporting on the civil war for Agence France-Press (AFP) and US media company GlobalPost and later murdered. The other two images were no less shocking.
There was an outcry in France when she posted the images during a row with journalist Jean-Jacques Bourdin. He had drawn a comparison between IS, known in Arabic as Daesh, and the party Ms Le Pen led at the time, the National Front. The social media spat came in the wake of the jihadist murders in Paris in which 130 people died.
"This is what Daesh is," she wrote under the photos, flatly rejecting the comparison.
Far-right colleague Gilbert Collard also tweeted the photos and went on trial with the National Rally leader on Wednesday.
The European Parliament voted to strip Ms Le Pen – then an MEP – of her parliamentary immunity and then a judge charged the pair with posting "violent messages that incite terrorism or pornography or seriously harm human dignity" and are likely to be seen by a minor.
She was later ordered to have psychiatric tests as part of the inquiry.
Outside the court in Nanterre on Wednesday the politician complained that "when they seek to convict someone without even having any judicial basis, well that means you're in full-on political trial".
Prosecutors are seeking a fine of €5,000 (£4,400). Asked in court whether she was not concerned the images could incite young people, Ms Le Pen argued that they were shocking photos that provoked rejection not support.
More on the 2015 Paris attacks: