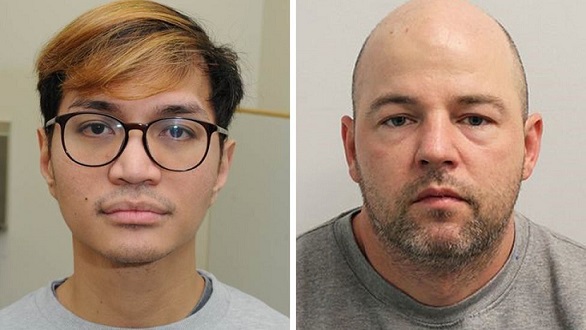 Two serial rapists with life sentences will have the minimum time they must spend in prison extended from 30 to 40 years, the High Court has ruled.
Joseph McCann, 35, was jailed last year at the Old Bailey for 37 offences involving 11 women and children.
Reynhard Sinaga, 37, was sentenced at Manchester Crown Court in January for 159 offences against 48 men.
The judges rejected calls for whole-life jail terms, never successfully imposed in a non-homicide case.
Such an order, meaning a life sentence with no minimum term, is usually reserved for certain types of murders, like those involving serial murder, child abduction or a terrorist motive.
The attorney general referred McCann and Sinaga's convictions to the Court of Appeal after describing their original jail terms as "unduly lenient".
Their judgement, published on Friday, says "we are thus unable to accept the submission" that two offenders should have received a whole-life tariff.
But, they add, in the "collective experience of this court the cases of McCann and Sinaga, albeit very different on their individual facts, come within the category of the most serious cases involving a campaign of rape to have been tried in England and Wales."
The judgement then alters the minimum terms for McCann and Sinaga to 40 years each, saying the "multiple life sentences remain and whether either is in fact ever released will depend upon the assessment of risk by the Parole Board at the end of the minimum terms".
The ruling states that "neither man has shown any remorse and the long-term psychological damage for at least some of the victims in both trials is profound and will only be understood in the years to come".
Whole-life guidance
The judgement says it endorses the line of authority that does "not shut the door" to a whole-life tariff in a non-murder case.
Examples it gives include a "bomb planted on a commercial airliner" that fails to explode or intervention by the authorities that "prevents an act of mass-murder".
The offending of McCann and Sinaga, "does not, in our judgement, call for either to receive a whole-life tariff", the ruling states.
It adds: "This is not to minimise the seriousness of their offending but instead to ensure that the most severe sentence in our jurisdiction is reserved, save exceptionally, either for the most serious cases involving loss of life, or when a substantive plan to murder of similar seriousness is interrupted close to fulfilment."
In a statement after the ruling, Solicitor General Michael Ellis QC said: "Both offenders carried out some of the most heinous and depraved sexual attacks that shocked the nation.
"I am grateful for the guidance the court gave about whole-life orders and I am pleased that the court imposed a longer minimum term.
"I hope this brings some solace to the victims of these despicable crimes."
Meanwhile, Greater Manchester Police said it had identified a further 23 people it believed were victims of Sinaga. It said it had yet to identify about 60 of the 206 victims and suspected victims.
The list of offenders with a whole-life term includes serial killers Rosemary West and Stephen Port.
As of June this year there were 63 whole-life prisoners and an additional three life prisoners being treated in secure hospitals.
Source: bbc.co.uk