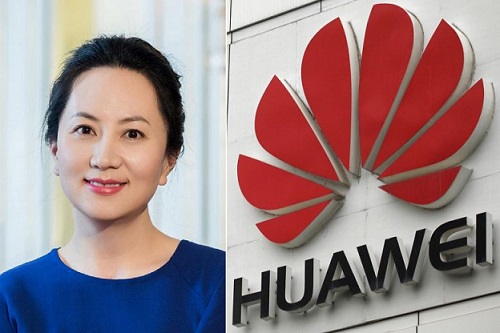 When a Canadian border officer did some hurried research on the internet on 1 December 2018, the result left him "shocked".
He had just been told that a Chinese woman was landing at Vancouver airport in a few hours and that the Royal Canadian Mounted Police had an arrest warrant out for her based on a US request.
What the research revealed was that she was the chief financial officer of the Chinese telecoms giant Huawei and the daughter of the company's founder.
It was at that moment that border officials realised they were about to be plunged into the centre of a major international incident which, nearly two years on, has not gone away.
The woman was Meng Wanzhou whose flight from Hong Kong arrived at Gate 65 at 11:10 local time. She was on a stopover in Canada, where she has two homes, before heading on to business meetings in Mexico.
Further details of what took place at the airport have been revealed in a Vancouver court in the past week as part of the latest stage of legal battle that could stretch on for years.
Her lawyers are pursuing a multi-pronged strategy to prevent her being extradited to the US on charges of misleading the bank HSBC in a way which might lead to it breaking US sanctions on Iran.
Ms Meng's lawyers have been arguing that there was abuse of process in the way the arrest was carried out.
One of the issues they raised is why Meng was questioned for nearly three hours by officers from Canadian Border Services Agency before she was formally arrested by the Royal Canadian Mounted Police (RCMP). Her lawyers are looking for signs that proper procedures were not followed in what unfolded in those hours.
Ms Meng, who appeared in court wearing the security ankle bracelet that is required for her bail, was described as "calm" during her initial questioning at the airport because she had no idea what was coming next.
Border officials took her phones and devices and placed them in a special bag – designed to prevent any electronic interference. Border officials also got her passwords and PIN codes for the devices but the court heard that they mistakenly handed these, along with the devices, over to the RCMP when they technically should not have done.
It was just after 14:00 when this questioning was over that she was met by a police officer who explained to Ms Meng that she was being arrested and was entitled to a lawyer.
The police officer who eventually arrested her after the border questioning was challenged in court as to why he did not do so earlier. Her lawyers are looking for evidence a co-ordinated plan by border agency and police – perhaps with the guiding hand of the US behind them – to improperly detain and question her without a lawyer.
Officials deny this and say the border questioning was to establish whether there was any reason she could not be admitted, for instance involvement in espionage. The police officer also testified "safety" concerns were one reason he did not arrest Ms Meng immediately after her Cathay Pacific 777 flight landed.
This part of the legal battle will focus on whether procedures were followed and if not, whether that was due to simple mistakes or the result of any plan.
The legal battle over her extradition is likely to go on for months and perhaps years with appeals on different issues leaving relations between the two countries in a difficult state and Ms Meng still in Canada.
Source: bbc.co.uk