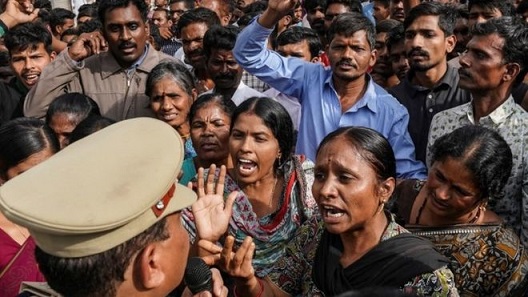 Indian police have shot dead four men suspected of raping and killing a young female vet in Hyderabad last week.
The men were in police detention and were taken back to the scene of the crime in the early hours of Friday.
The suspects were shot when they tried to steal the officers' guns and escape, police told BBC Telugu.
The 27-year-old victim's charred remains were discovered last Thursday – leading to outrage and protests over alleged police inaction.
After news of the killings broke, the victim's mother told the BBC that "justice has been done".
Meanwhile, neighbours celebrated with firecrackers, and thousands of people took to the streets to hail the police.
What happened on Friday?
Cyberabad police commissioner VC Sajjanar told BBC Telugu that police took the accused to the scene to reconstruct the crime.
Police shot the men when they tried to grab the officers' guns and escape, he said.
Two police officers were also injured.
The police were heavily criticised after the rape and murder of the vet – particularly when the victim's family accused them of inaction for two hours.
How have the victim's family reacted?
BBC Telugu's Deepthi Bathini visited the family in their home, where neighbours could be seen celebrating the news by bursting firecrackers and distributing sweets.
"I can't put it into words. I felt happiness but also grief because my daughter will never come home," the victim's mother said.
"My daughter's soul is at peace now. Justice has been done. I never thought we would get justice. No other girl should experience what my daughter did."
The mother added that she wants the law on sexual assault and rape to be "stricter".
"Men should be scared to even stare at women – because they will be punished."
The victim's sister said the police action was "very unexpected".
"I was expecting court trials and the court to deliver justice. This will not bring my sister back, but it is a great relief. Because of the police action, people will think twice before they do something like this again," she said.
What has the wider reaction been?
News of the police action has been widely celebrated on social media.
Many took to Twitter and Facebook to applaud the police, saying they "delivered justice".
The mother of a student who died after being gang-raped on a bus in capital Delhi in 2012 has also hailed the killing.
"I am extremely happy with this punishment. Police have done a great job," she told ANI news agency.
BBC Telugu reporter Satish Balla, reporting from the spot of the killings, said approximately 2,000 people have gathered, causing a huge traffic jam.
Vehicles have come to a standstill on the highway, where people are shouting "hail the police".
At the scene of the encounter, people earlier showered the police with rose petals and distributed sweets, our reporter added.
But a few have also questioned the police's version of events.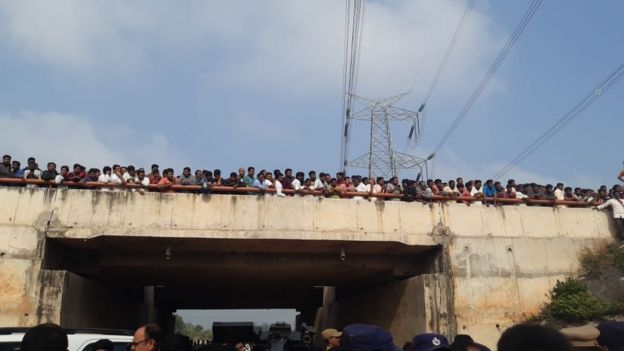 Prakash Singh, a retired police officer and a key architect of police reforms, told the BBC that the killings were "entirely avoidable".
"Abundant caution should be taken when people in custody are being taken to the court or the scene of the crime," he said.
"They should be secured, handcuffed and properly searched before they are taken out. All kinds of things can happen if the police are not careful."
But Mr Singh said it was too early to say if the incident was an extrajudicial killing – known popularly in India as an "encounter killing".
In the days after the rape and murder, thousands of people protested at Hyderabad police station, insisting the killers face the death penalty.
Jaya Bachchan, a former Bollywood star who is now a MP in India's upper house of parliament, said earlier this week that the accused men should be "lynched".
"I know it sounds harsh, but these kind of people should be brought out in public and lynched," she said during a parliamentary debate on the incident.
Several other MPs from across the political spectrum also condemned the brutal gang-rape and murder.
Elsewhere in the country, there were other protests and vigils for the victim, who cannot be named under Indian law.
How did the vet's murder unfold?
The victim left home on her motorbike at about 18:00 local time (12:30 GMT) ten days ago to go to a doctor's appointment.
She called family later to say she had a flat tyre, and a lorry driver had offered to help. She said she was waiting near a toll plaza.
Efforts to contact her afterwards were unsuccessful, and her body was discovered under a flyover by a milkman on Thursday morning.
Last week, three police officers were suspended when the victim's family accused them of not acting quickly enough when the woman was reported missing.
Officers had suggested she may have eloped, relatives told the National Commission for Women, a government body.
Are women any safer in India today?
Rape and sexual violence against women have been in focus in India since the December 2012 gang-rape and murder of a young woman on a bus in the capital, Delhi.
But there has been no sign that crimes against women are abating.
According to government figures, police registered 33,658 cases of rape in India in 2017, an average of 92 rapes every day.
Source: bbc.co.uk