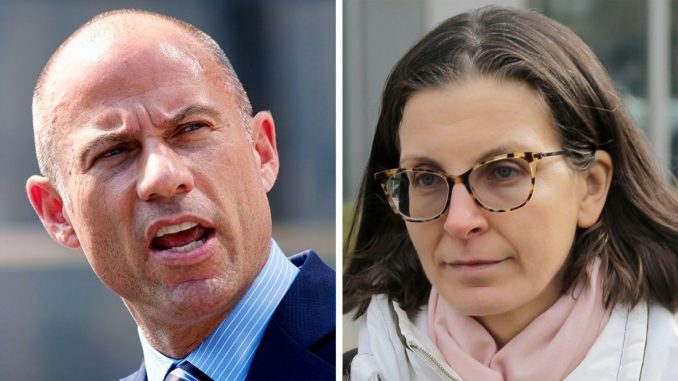 By Robert Gavin
NEW YORK — Seagram's heiress and NXIVM defendant Clare Bronfman told a federal judge on Thursday that embattled celebrity attorney Michael Avenatti briefly served as a "consultant" to her criminal defense team, but was no longer working on her behalf.
At a pre-trial hearing in Brooklyn, U.S. District Judge Nicholas Garaufis asked Bronfman if she was aware that Avenatti and Mark Geragos, another celebrity attorney representing her, had met with federal prosecutors on March 19 and offered information that would be "a benefit to you."
The judge did not reveal the nature of the information or the potential benefit to Bronfman. Federal prosecutors in Brooklyn previously informed Garaufis that they are in plea negotiations with three defendants in the criminal case against NXIVM's leaders.
Thursday's pre-trial hearing was a continuation of a Wednesday hearing that was interrupted when Bronfman, who has appeared frail in recent appearances, collapsed after Garaufis questioned Geragos about Avenatti's involvement. Geragos caught Bronfman before she hit the ground.
"How are you doing today, ma'am?" the judge asked the 39-year-old operations director for the Colonie-based NXIVM on Thursday.
"I'm better," said Bronfman, who was wearing a light blue sweater, scarf and slacks. "Sorry. … I was just very scared yesterday. It was very stressful."
The judge focused on the legal topic at hand. "Are you familiar with Michael Avenatti's representation of you?" Garaufis asked.
"As a consultant, yes," Bronfman answered.
The judge asked her if Avenatti no longer represented her.
"That is correct," she replied.
Federal prosecutors in Manhattan charged Avenatti with trying to shake down as much as $25 million by threatening Nike with bad publicity — including in a meeting that was held the same day he met with federal prosecutors on Bronfman's behalf. In a separate case, Avenatti faces charges he embezzled a client's money to pay his own expenses, and was charged with extortion and bank and wire fraud in separate cases in New York and California.
Geragos has been identified as an unindicted co-conspirator in an extortion case announced Monday against Avenatti, the former lawyer for adult film star Stormy Daniels, who has alleged having a sexual liaison with President Donald J. Trump.
The judge asked Bronfman how she had secured Geragos' services: "You didn't get him from the internet, did you?"
"Actually, I did," she said, explaining that she had become curious about Geragos, whose previous clients include Michael Jackson and Whitewater figure Susan McDougal, after reading about him.
The judge reminded Bronfman that "the most important thing is for you to have conflict-free counsel."
The judge told Bronfman that Geragos' potential legal jeopardy in the Avenatti extortion case could work against her best interests. Bronfman again assured him she was satisfied with Geragos.
Outside court, Geragos declined to answer questions about the Avenatti case, but lauded Bronfman for keeping him.
"There's something really refreshing in this day and age with a client who is that satisfied with what you're doing," Geragos said.
Also attending the hearing was Benjamin Brafman, another high-powered litigator whose firm is representing NXIVM co-founder Keith Raniere. Brafman briefly represented Geragos in his recent legal trouble.
Bronfman faces charges of racketeering conspiracy and conspiracy to commit identity theft connected to various alleged NXIVM schemes.
Bronfman and Raniere are charged along with Lauren Salzman; television actress Allison Mack; and Kathy Russell, a longtime bookkeeper for NXIVM. Another codefendant, NXIVM co-founder Nancy Salzman, recently pleaded guilty to racketeering conspiracy.
Prior to the hearing Thursday, Donna Newman, another lawyer for Bronfman, wrote a letter to the judge explaining that Avenatti's work on the case had amounted to "a matter of days" and was never formalized.
In addition to the criminal case, Avenatti was involved in a civil matter involving Bronfman pending in western New York, Newman said.
In the letter, Newman warned the judge that questions he planned to ask Bronfman about the March 19 meeting between Avenatti, Geragos and the prosecution could breach attorney-client privilege. Assistant U.S. Attorney Moira Penza disagreed in court.
When Garaufis on Thursday began to ask Bronfman about her knowledge of the meeting, Newman answered for her client repeatedly, which infuriated the judge.
Garaufis told Newman if she did not stop answering questions for Bronfman, he would remove Newman from the case and replace her with someone else.
"I don't want a filter; I don't want a siphon," the judge fumed. "I want answers."
Meanwhile, Newman marked her letter to the judge "under seal," an indication it could not be accessed by the public. The judge made it clear Newman's wording carried no legal weight.
"It's the court that gets to decide whether it's under seal," Garaufis said. "This is not a document that was intended to be under seal."
Jury selection in the NXIVM trial will be early next month, with opening arguments scheduled for April 29.
Source timesunion.com/