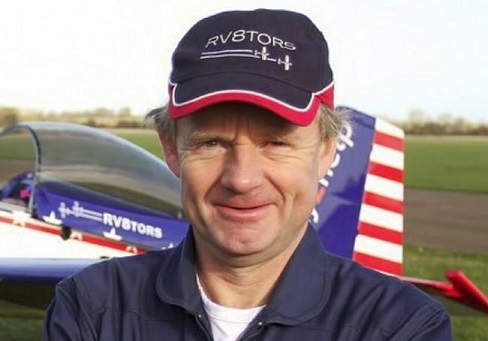 The pilot of a jet which crashed at the Shoreham Airshow has been found not guilty of manslaughter by gross negligence.
Andrew Hill's ex-military jet crashed on to the A27 in Sussex on 22 August 2015, killing 11 men.
The ex-RAF pilot denied deliberately committing to a loop manoeuvre despite flying too low and too slow.
Karim Khalil QC, defending, argued Mr Hill had been suffering from "cognitive impairment" when the jet crashed.
Mr Hill was also formally found not guilty of a count that was not put in front of the jury of negligently or recklessly endangering the safety of an aircraft.
There were gasps from the families in the courtroom with many in tears as the verdicts were read out.
Mr Justice Edis told the relatives: "I am enormously impressed and grateful for the dignified way you have all behaved.
"I can see that you are upset and you are absolutely entitled to be but despite being upset you have behaved in a way which does you great credit."
Speaking outside the Old Bailey, Leslye Polito, the mother of the youngest crash victim, Daniele Polito, 23, said she felt "disappointed, very upset and primarily let down by the justice system".
She said: "The whole fact that it was avoidable, that was the hardest bit to consider and process. It's still the hardest bit."
On the steps of the court, Mr Hill read out the names of all 11 victims and said: "A number of people were injured. I'm truly sorry for the part I played in their deaths and it's they I will remember for the rest of my life."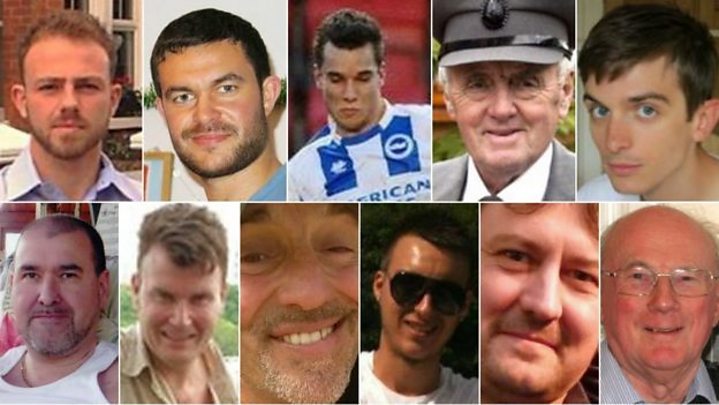 The men who died
Matt Jones, a 24-year-old personal trainer
Daniele Polito, 23 was travelling in the same car as Mr Jones
Matthew Grimstone, 23, a Worthing United footballer who worked as a groundsman at Brighton & Hove Albion
Jacob Schilt, also 23 and also a Worthing United player, was travelling to a match with Mr Grimstone
Maurice Abrahams, 76, from Brighton, was a chauffeur on his way to pick up a bride on her wedding day
Friends Richard Smith, 26, and Dylan Archer, 42, who were going for a bike ride on the South Downs
Mark Reeves, 53, had ridden his motorcycle to the perimeter of Shoreham Airport to take photos of the planes
Tony Brightwell, 53, from Hove was an aircraft enthusiast and had learnt to fly at Shoreham airfield
Mark Trussler, 54, had gone to watch the display on his Suzuki motorbike and was standing next to the road
James "Graham" Mallinson, 72, from Newick, was a photographer and retired engineer
Source: bbc.co.uk