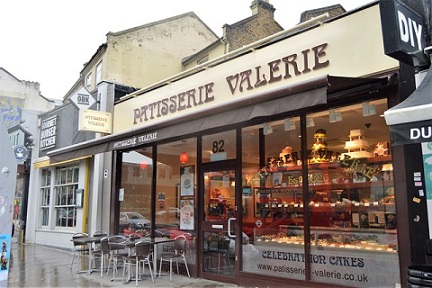 The owner of Patisserie Valerie has said its finance director Chris Marsh was arrested last night and then released on bail.
The cafe chain is fighting for survival after revealing on Wednesday it had uncovered "significant, and potentially fraudulent, accounting irregularities".
Mr Marsh had been suspended when these problems were discovered.
Later on Friday the Serious Fraud Office said it had "opened a criminal investigation into an individual".
"We can give no further information or comment at this time," the SFO said without naming the individual.
On Thursday, Patisserie Holdings – the owner of the cafe chain – said it needed "an immediate injection of capital" to continue trading in its current form.
In a brief announcement to the stock market on Friday, the firm said: "The company has been made aware that Chris Marsh, who is currently suspended from his role as company finance director, was arrested by the police last night and has been released on bail. Further updates will be released in due course as appropriate".
Hertfordshire Police said: "A 44-year old man from St Albans has been arrested on suspicion of fraud by false representation. He has been released under investigation."
Patisserie Holdings is 37%-owned by entrepreneur Luke Johnson. Since Thursday's statement it has not provided any more detail on its attempts to raise funds.
Patisserie Valerie's stores are continuing to operate, and the BBC understands that talks are currently taking place in an attempt to save the business.
It is also understood that Mr Johnson is not in a position to personally provide the cash needed immediately.
A further update is expected later on Friday or on Saturday.
Shares in Patisserie Holdings were suspended on Wednesday.
In its most recent results statement in May, the company said it had cash reserves of £28.8m.
But on Thursday, Patisserie Holdings said it had found "a material shortfall between the reported financial status and the current financial status of the business".
It also said that the board had been become aware this week of a winding-up petition against its principal subsidiary Stonebeach, from HMRC over £1.14m of tax.
Speaking on the BBC's Today programme, Julie Palmer of restructuring experts Begbies Traynor said that "normally" after a winding-up petition "banks will freeze company bank accounts which makes day-to-day trading very difficult". The company did not comment on this.
Patisserie Holdings was listed on the stock market in 2014 when its shares were floated at 170p a share. They were trading at 429p before its shares were suspended, valuing the business at £440m.
The first Patisserie Valerie store was opened in the Soho district of London in 1926 by a Belgian woman, Madame Valerie. It is now part of a chain with 206 stores which employs more than 2,000 people.
Its swift expansion took place after Mr Johnson bought into Patisserie Valerie in 2006 when it had eight stores.
Shortly after its stock market listing, on the AIM market for small companies, Patisserie Holdings listed Mr Marsh's credentials in a presentation. It said:
He joined as finance director in 2006
Had worked with Paul May (chief executive) since 1998
Had advised many companies over the previous 15 years in finance director and consultancy roles
His previous experience included roles at two AIM-listed companies
He is a chartered accountant and tax accountant, formerly with EY
Mr Johnson, who was chairman of Channel 4 for six years until January 2010, has a number of business ventures. He earned his reputation taking control of Pizza Express in 1993 before selling out in 1999.
Mr Johnson is the executive chairman of Patisserie Holdings which owns Patisserie Valerie, Druckers, Philpotts, Baker & Spice and Flour Power City.
Accountancy firm PwC is reported to have been hired by the company to look at its accounts, which are audited by Grant Thornton.
The accountancy watchdog, the Financial Reporting Council, said: "We are looking into this matter carefully and will give full consideration to further action as more facts become available."
Source: bbc.co.uk