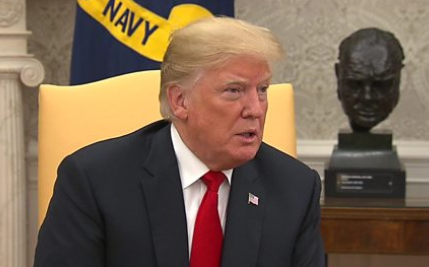 President Donald Trump has ordered an FBI investigation into sexual misconduct allegations against his nominee for the US Supreme Court.
The move came after a Senate committee voted to approve Brett Kavanaugh's nomination to the top US court.
But a Republican member only backed the move on the understanding that such an inquiry would occur.
As a result, a full Senate vote on Judge Kavanaugh's confirmation has been delayed for up to a week.
The White House statement came after Republican leaders in the Senate agreed to support the request for an FBI inquiry.
Judge Kavanaugh denies allegations from at least three women.
On Thursday, the committee heard testimony from Christine Blasey Ford, a professor of psychology in California, who says Judge Kavanaugh – nominated to the court by President Trump – sexually assaulted her when they were teenagers in the 1980s.
Judge Kavanaugh also testified on Thursday, angrily rejecting the allegation he had ever assaulted her or anyone else. He accused Democrats of politicising the process and harming his family and good name.
What might the FBI do in a week?
An FBI investigation into the allegations against Judge Kavanaugh will not be a new inquiry.
The bureau will instead reopen its previously completed background check on Judge Kavanaugh. This might mean going back to old witnesses – or speaking to new ones.
Friday saw Republicans on the Senate Judiciary Committee throw out Democrat attempts to subpoena Mark Judge, a friend of Judge Kavanaugh who Dr Ford said had witnessed the assault on her 36 years ago.
Mr Judge had told the committee in a written statement that he did not recall any such incident.
After the committee had adjourned, Mr Judge's lawyer Barbara Van Gelder said: "If the FBI or any law enforcement agency requests Mr Judge's co-operation, he will answer any and all questions posed to him."
What led to this?
On Friday, a day after hearing from Dr Ford and Judge Kavanaugh, the Senate Judiciary Committee split along party lines in a vote on passing the nomination to the full Senate.
Democrats accused the 11 Republicans of attempting to rush the process, while Republicans countered that the 10 Democrats were using the allegations against Judge Kavanaugh in an attempt to delay – and ultimately block – the conservative judge from joining the Supreme Court.
Arizona Republican Jeff Flake then told the committee that he would back the motion to send Judge Kavanaugh's nomination for a full vote on the Senate floor – but would not support his confirmation in the Senate without the additional FBI probe for which the Democrats and the American Bar Association had been pressing.
The vote then went ahead, with all 11 Republicans including Mr Flake in favour and all 10 Democrats – despite welcoming Mr Flake's intervention – voting against.
A statement issued later by the committee said it would "request that the administration instruct the FBI to conduct a supplemental FBI background investigation".
It said: "The supplemental FBI background investigation would be limited to current credible allegations against the nominee and must be completed no later than one week from today."
Mr Flake, who often differs from Mr Trump and the Republican leadership in Congress, had issued a statement shortly before Friday's session began stating that he would back Judge Kavanaugh.
On his way to the committee room, he was berated by two women who said they were victims of sexual violence and urged him to change his mind.
Speaking to reporters at the White House after the committee vote, Mr Trump said he would leave it to Senate leaders to decide how to proceed.
"Whatever they think is necessary is okay," he said. "They have to do what they think is right."
But he continued to support Judge Kavanaugh, saying he had not thought "even a little bit" about a replacement – but added that he had found Dr Ford a "credible witness".
Why is this vote so important?
The Supreme Court plays a vital role in US political life. Appointed for life, its nine members have the final say on US law.
This includes highly contentious social issues, such as abortion, and challenges to government policy.
Judge Kavanaugh's appointment could tilt the balance in favour of conservatives for years to come.
Republicans control the Senate by a narrow 51-49 majority. Without the support of Mr Flake and one other Republican senator – and assuming all Democrats vote against – the confirmation of Judge Kavanaugh cannot occur.
A simple majority of those present is needed for the confirmation. If there is a tie, the vice-president, who presides over the Senate, casts the deciding vote.
What are the other allegations against Kavanaugh?
Yes, and new ones appeared ahead of Thursday's hearing. At present they are:
Deborah Ramirez. The former Yale University student has said that Brett Kavanaugh once exposed himself to her at a dormitory party in the 1980s. She alleges the incident occurred during a drinking game and remembers Brett Kavanaugh standing to her right and laughing
Julie Swetnick. A Washington DC resident. In a sworn affidavit, she alleges Brett Kavanaugh was involved in the drugging and sexual assault of girls at house parties in the 1980s. She says she was the victim of a gang rape in 1982 at a party attended by the now-Supreme Court nominee
Anonymous. A woman sent a letter to a Colorado senator alleging her daughter had witnessed Judge Kavanaugh pushing a woman he was dating "very aggressively and sexually" against a wall in 1998
Judge Kavanaugh denies these allegations, and on Thursday called Ms Swetnick's allegation "a joke" and "a farce".
Source: bbc.co.uk