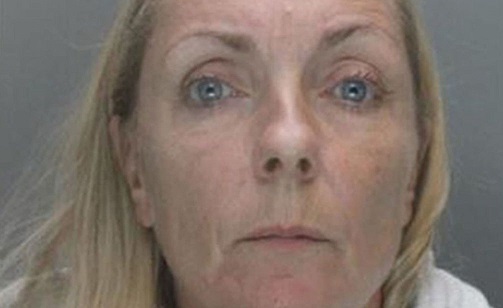 A boss of an insurance firm claimed she had a daughter who was hurt in the Manchester Arena bomb attack so she could make claims for a payout.
Susan Pain, of Kirkby, Merseyside, made 30 other fake medical claims between 2010 and 2017, totalling £140,000.
They included a £6,860 claim for a non-existent son's skiing accident.
Pain, 51, admitted two counts of fraud at a previous hearing and was jailed for two years at Liverpool Crown Court earlier.
Judge Alan Conrad QC said: "All right-minded people would be shocked you would seek to use a tragedy that shook the nation as the basis for a fraudulent claim."
City of London Police said Pain had no children, but made claims related to children she invented.
The Crown Prosecution Service (CPS) said Pain, a director of Money Medical Management, used her inside knowledge of the industry to make fraudulent claims.
'Exploited tragic attack'
Police said she had also made claims for jury service and maternity leave and forged medical and court documents to substantiate them.
Det Con Ant Andrews, from City of London Police, said Pain "exploited the tragic terror attack" to make a financial gain.
The CPS said the fraud came to light when Pain pretended she was a dentist and claimed her "daughter Sophie" had had two major operations after sustaining serious injuries in the Arena attack in May 2017.
AXA Insurance – underwriter of the policies – could not trace a victim with her daughter's name and discovered discrepancies with Pain's previous claims, said the CPS.
Carolyn Scott from AXA Insurance said: "Pain took advantage of a position of trust to deceive her employer and defraud AXA.
"She used details of extremely upsetting events… to make fraudulent claims for her own personal gain."
Henry Pepper, from the CPS, said it had applied to the court under the Proceeds of Crime Act to recover the money Pain stole.
Source: bbc.co.uk