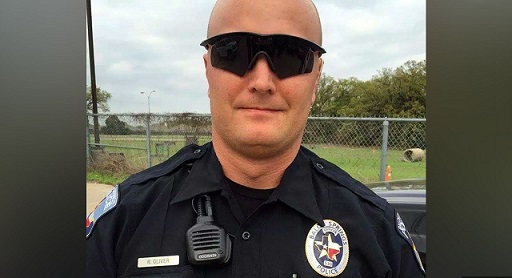 An ex-police officer has been sentenced to 15 years in prison for shooting dead an unarmed black teenager in Texas.
Roy Oliver, who is white, fired a rifle into a car that was driving away from a party in Dallas in April 2017, killing 15-year-old Jordan Edwards.
It is very rare for police officers to be convicted in shooting deaths. Oliver's lawyers say they intend to appeal the verdict.
Jordan's family say the jail sentence is too lenient.
"He can actually see life again after 15 years – and that's not enough because Jordan can't see life again," his stepmother, Charmaine Edwards, said.
On the night of 29 April 2017, police responded to reports of underage drinking at a house party in the suburb Balch Springs.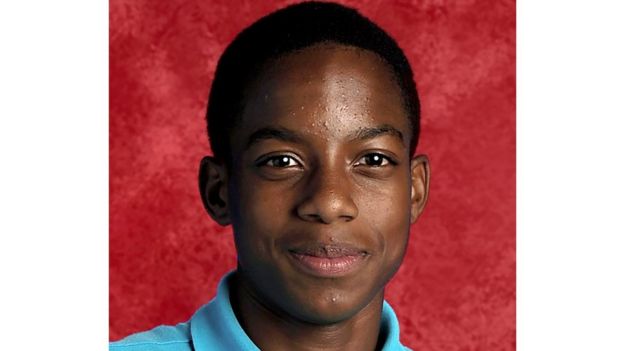 Officers were inside the home trying to find the owner when they heard outside what they believed to be gunshots, causing panic at the home as people fled.
According to police documents, Oliver's partner, Tyler Gross, attempted to stop a car full of teenagers that was leaving the party.
He walked up to the passenger door of the car and punched the window, breaking it.
Oliver then fired several times into the car – shooting Jordan, who was in the front passenger seat, in the back of the head.
Oliver said he believed the car was reversing "aggressively" towards his partner.
However, bodycam footage showed that the car was actually driving away from police when the shots were fired.
Officer Gross later told the court that he had not felt his life was in danger and had not felt the need to use his gun.
Oliver was fired by police shortly after the shooting.
A jury in Texas found Oliver guilty of murder on Tuesday, and on Wednesday night, after 12 hours of deliberation, they sentenced him to 15 years in jail.
This means he could be eligible for parole after seven and a half years.
Prosecutors had argued for at least 60 years.
Jordan's family cried and hugged prosecutors after the guilty verdict.
His father, Odell Edwards, said he was "very happy… it's been a long time, hard year".
However, his stepmother said she would have preferred a longer sentence of 25 to 30 years.
The lawyer for the Edwards family, Daryl Washington, said the verdict was significant for "every African-American" who was killed by police and has "not gotten justice".
"This case is not just about Jordan. It's about Tamir Rice. It's about Walter Scott. It's about Alton Sterling," he said, referencing three other black men or boys killed by US police.
Defence lawyers have argued that Oliver had "reacted properly" and made a split second decision to protect his partner. They plan to appeal, saying there were "significant errors" in the trial.
Oliver's mother Linda Oliver and wife Ingrid Llerena had asked the jury for a lighter sentence, describing him as a caring father to a young autistic son.
However, his half-sister Wendy testified for the prosecution instead, saying "Jordan didn't do anything to be shot".
After the verdict, Linda Oliver said she was "just stunned" by the verdict.
"I don't think the testimony supported it. I think what hurt him the most was that the other officer didn't think he was in danger," she told the New York Times, in tears.
How rare is this?
There have been several high-profile cases of black men – often unarmed – dying at the hands of US police in recent years.
But police are rarely convicted over shootings that happen while they are on duty.
According to criminologist Philip Stinson, there are about 1,000 incidents per year where an on-duty police officer shoots and kills someone.
However, since 2005, only 33 police officers have been convicted over on-duty shootings where someone was killed, he told NBC.
Out of those cases, only six non-federal police officers were convicted of murder, and four of those convictions were overturned, AP news agency reports.
Experts say that juries tend to give police officers the benefit of doubt and are reluctant to second-guess police decisions.
However, observers say that Oliver's case may have been different because video footage contradicted his version of events, and his partner said he did not feel threatened.
Source: bbc.co.uk