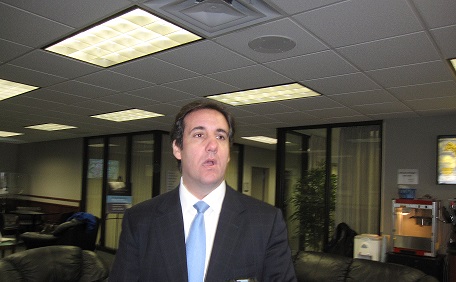 US President Donald Trump's former lawyer Michael Cohen has pleaded guilty in a Manhattan court to violating campaign finance laws.
He said he did so at the direction of "the candidate", acting for the "purpose of influencing the election".
Mr Cohen's admission was related to hush money paid to Mr Trump's alleged mistresses.
The 51-year-old admitted eight counts, including tax and bank fraud in a plea deal with prosecutors.
In the court on Tuesday he said that he had been directed by "a candidate for federal office" – presumed to be Mr Trump – to break federal election laws.
The charges against him could carry prison time.
He has pleaded guilty to:
Five counts of tax evasion
One count of making false statements to a financial institution
One count of willfully causing an unlawful corporate contribution
One count of making an excessive campaign contribution at request of a candidate or campaign
His sentencing is scheduled for 12 December.
A judge ruled that he can be released on Tuesday after posting a bail of $500,000 (£390,000) and surrendering his passport and any firearms that he may own.
Mr Cohen previously admitted to arranging hush money for a woman who claimed she had an affair with Mr Trump.
Speaking to reporters outside court, a prosecutor said Mr Cohen's crimes were "particularly significant" because he is a trained lawyer.
"Mr Cohen disregarded that training, disregarding that tradition," said Robert Khuzami, the deputy US attorney for the Southern District of New York.
"Mr Cohen decided he was above the law and for that he is going to pay a very, very serious price."
The plea came as a jury in Alexandria, Virginia, reached a partial guilty verdict on bank and tax fraud charges against Paul Manafort, Mr Trump's campaign chairman during the 2016 presidential election.
The nature of the reported plea deal is unclear and does not necessarily entail that Mr Cohen is co-operating against the president.
It could simply mean he has agreed to plead guilty to unspecified charges in order to spare both sides a lengthy trial.
According to Politico, a source close to Mr Cohen said he agreed to the deal "to save millions of dollars, protect his family, and limit his exposure".
Mr Cohen worked at the Trump Organization for more than a decade and continued to serve as Mr Trump's personal lawyer and fixer after the 2016 election.
The New York Times reported on Sunday night that federal investigators were looking into Mr Cohen's business activities.
They were focusing on more than $20m (£15.5m) in loans to taxi businesses owned by Mr Cohen and his family, according to the newspaper.
The FBI seized a number of files in April on Mr Cohen's office and a hotel room used by him in New York.
They reportedly conducted the raid following a tip-off from the team of special counsel Robert Mueller.
Mr Mueller is investigating whether Trump campaign aides colluded with alleged Kremlin attempts to sway the 2016 presidential election his way.
The FBI swoop triggered outraged tweets from Mr Trump, who complained that it was a violation of attorney-client privilege.
In tweets, he called it "inconceivable" and "almost unheard of".
The president has distanced himself from Mr Cohen since he left his post as Mr Trump's personal lawyer in May.
The investigation into Mr Cohen's business dealings has strained his relationship with the president.
He once famously vowed he would take a bullet for Mr Trump. But he said in an interview last month that his loyalty to his family and country came before his old boss.
What was the hush money about?
In May, the president admitted he had reimbursed Mr Cohen for a payment he made to silence adult film actress Stormy Daniels about her alleged affair with Mr Trump just days before the election.
Mr Trump had previously denied all knowledge of the $130,000 (£100,675) payment as part of a non-disclosure agreement.
Last month it also emerged that Mr Cohen had made a secret recording of the president, in which they discuss a payment to buy the rights to former Playboy model Karen McDougal's story from the parent company of the National Enquirer tabloid.
Ms McDougal had sold her story to the Enquirer in the run-up to the presidential election.
Undisclosed payments on behalf of a political candidate could be considered a violation of US campaign finance laws.
The lawyer for Ms Daniels – who is suing both Mr Trump and Mr Cohen for defamation – tweeted that today's developments will help her to win her case against the president.

Mr Trump has yet to comment on the latest developments. He has a pre-scheduled rally planned for Tuesday night in West Virginia.
What does the deal mean?
Anthony Zurcher, BBC News, Washington
Ever since federal investigators raided Michael Cohen's office and home back in April there was speculation that it was only a matter of time before he faced criminal consequences.
The only question was whether it would come in the form of an indictment or some type of plea deal negotiated with prosecutors.
It appears it will be the latter.
What this means, of course, is still an open question. Mr Cohen was Donald Trump's long-time lawyer, business associate and all-around fixer. If there are skeletons in Mr Trump's closet, Mr Cohen could know where they lurk.
While a plea deal doesn't guarantee that he is sharing information relevant to other federal investigations, he may be rewarded during sentencing if he does so. And the growing tension between Mr Cohen and the Trump team could make that more likely.
Mr Cohen reportedly said he has details about the June 2016 Trump Tower meeting between top members of Mr Trump's campaign staff and Russian nationals.
He facilitated a six-figure payment on the eve of the 2016 election to an adult film actress who was poised to state that she had a sexual liaison with Mr Trump.
These are topics that Mr Cohen might be inclined to flesh out in further detail, surely to the discomfort of those in the White House.
Source: bbc.co.uk