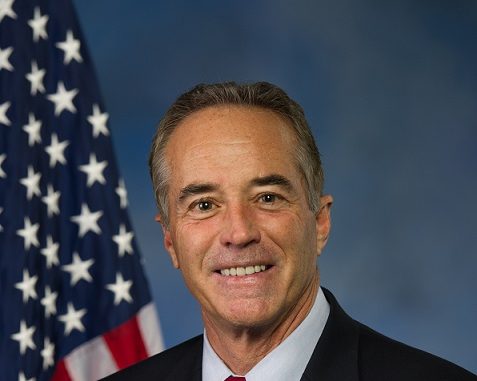 A US congressman has been accused of using inside information to make illicit stock trades.
Christopher Collins, 68, allegedly told his son to sell shares in a pharmaceutical company before news of a failed trial caused stocks to drop.
The New York Republican's son avoided $570,000 (£442,000) in losses thanks to the tip-off, says the indictment.
The representative, who denies the charges, is not accused of selling stocks himself.
On Wednesday night, Mr Collins maintained his innocence, speaking to reporters at his constituency in the New York State city of Buffalo.
He said: "The charges that have been levied against me are meritless and I will mount a vigorous defence in court to clear my name."
He vowed to continue running for re-election in November's mid-term elections.
Cameron Collins, the son, and his fiancée's father, Stephen Zarsky, are also charged with insider trading of Innate Immunotherapeutics Limited stocks.
The defendants allegedly tried to avoid losses by getting information regarding the results of a drug trial before the news went public.
The congressman did not trade any of his own shares, which eventually lost millions of dollars in value.
However, prosecutors say this was because he "was already under investigation by the Office of Congressional Ethics in connection with his holdings in, and promotion of, Innate".
Christopher Collins had reportedly been interviewed by the watchdog 17 days earlier.
In addition, Mr Collins' shares were held in Australia, unlike his son's shares, which could be traded in the US market.
Geoffrey Berman, US Attorney, said during a news conference on Wednesday: "In total, the conspirators avoided loses of over $768,000, all because of the initial illegal insider trading tip by Congressman Collins."
Attorneys for Mr Collins said in a statement that they will "mount a vigorous defence to clear his good name".
"It is notable that even the government does not allege that Congressman Collins traded a single share of Innate Therapeutics stock. We are confident he will be completely vindicated and exonerated."
The 30-page indictment states that Cameron Collins sold around 1,391,500 shares of Innate stock before the company announced the drug trial had failed and prices plummeted.
He also tipped off multiple people including his fiancée's family and a friend about the inside information.
Innate had been working on a drug to treat Secondary Progressive Multiple Sclerosis which would have been "enormously profitable" if successful, according to the indictment.
When news that it had failed broke on 26 June 2017, the Innate stock price plummeted 92% in a single day.
"This was the drop in value that the co-conspirators avoided by selling their shares before the public announcement," Mr Berman said.
"They could only sell their shares by virtue of the initial tip of inside information by Congressman Collins."
The company had expected the trial to be successful throughout that year.
Four days before the news went public, the indictment states, Mr Collins received an email from the company's chief executive detailing "bad news" about the trial.
Mr Collins, who was at the congressional picnic at the White House when he received the mail, allegedly responded: "Wow. Makes no sense. How are these results even possible???"
He then allegedly called Cameron Collins seven times, after which his son began selling large amounts of Innate stock until 26 June.
According to the indictment, the son even sold 50,000 shares while still on the phone with his father.
Alleged co-conspirator Mr Zarsky is said to have avoided over $143,000 in losses by selling his stocks early. He too then proceeded to tip others.
Mr Collins surrendered to the FBI and was arrested on Wednesday morning, US media report. He faces charges from the FBI and Securities and Exchange Commission of securities and wire fraud and lying to federal officials.
House Speaker Paul Ryan said the House Ethics Committee would be investigating the congressman. He will also be removed from his post on the House Energy and Commerce Committee.
"While his guilt or innocence is a question for the courts to settle, the allegations against Rep Collins demand a prompt and thorough investigation by the House Ethics Committee," Mr Ryan said, according to the Washington Post.
"Insider trading is a clear violation of the public trust."
The pro-Trump politician has been a member of Congress since 2013.
Source: bbc.co.uk