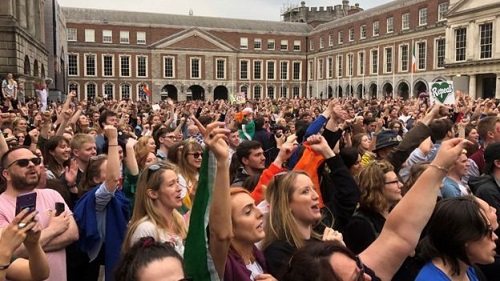 The Republic of Ireland has voted overwhelmingly to overturn the abortion ban by 66.4% to 33.6%.
A referendum held on Friday resulted in a landslide win for the repeal side.
Currently, abortion is only allowed when a woman's life is at risk, but not in cases of rape, incest or fatal foetal abnormality.
The Eighth Amendment, which grants an equal right to life to the mother and unborn, will be replaced.
The declaration was made at Dublin Castle at 18:13 local time.
The only constituency to vote against repealing the Eighth amendment was Donegal, with 51.9% voting against the change.
A vote in favour of repeal paves the way for the Dáil (Irish Parliament) to legislate for change which would see the introduction of a much more liberal regime.
In 2015 the country voted overwhelmingly to legalise same-sex marriage in a historic referendum.
'Burden of shame is gone'
Reacting to the result, the taoiseach (prime minister) Leo Varadkar, who campaigned in favour of liberalisation, said it was "a historic day for Ireland," and that a "quiet revolution" had taken place.
Mr Varadkar told crowds at Dublin Castle the result showed the Irish public "trust and respect women to make their own decision and choices."
He added: "It's also a day when we say no more. No more to doctors telling their patients there's nothing can be done for them in their own country, no more lonely journeys across the Irish Sea, no more stigma as the veil of secrecy is lifted and no more isolation as the burden of shame is gone."
He said that some had voted yes with "pride", but many had voted yes with "sorrowful acceptance and heavy hearts".
Mr Varadkar said he understood that those who had voted against repeal would be unhappy.
He said he had a message for them: "I know today is not welcome and you may feel this country has taken the wrong turn, that this country is one you no longer recognise.
"I want to reassure you that Ireland today is the same as it was last week, but more tolerant, open and respectful."
---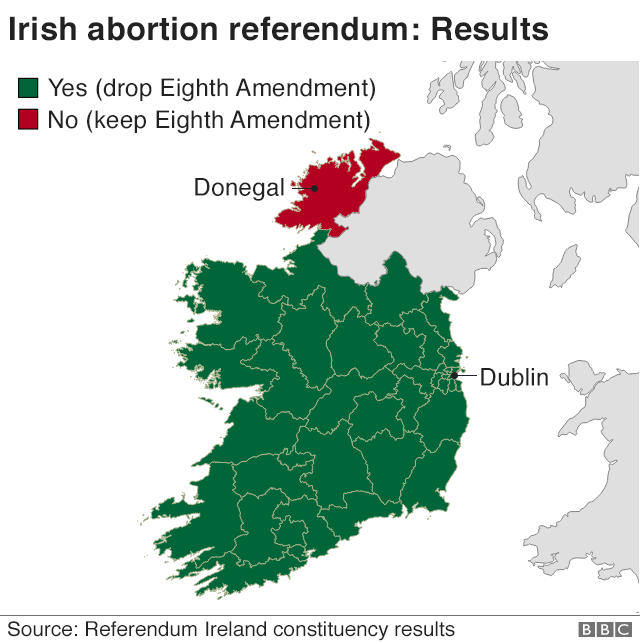 ---
He said by and large it had been a respectful campaign.
He added: "We voted to look reality in the eye and we did not blink.
"We choose to provide companionship where there was once a cold shoulder and medical care where we once turned a blind eye".
Mr Varadkar said he hoped to have a new abortion law enacted by the end of this year.
'Continue to protest'
Counting began at 09:00.
After the polls were published, one of the main anti-abortion campaigns conceded it had lost the vote.
The Save The 8th campaign described the result as a "tragedy of historic proportions".
"The unborn child no longer has a right to life recognised by the Irish state," said its spokesman John McGuirk.
However, he vowed that No campaigners would continue to protest, "if and when abortion clinics are opened in Ireland".
The leader of the main Irish opposition party, Micheál Martin of Fianna Fáil, said the vote was the "dawn of a new era".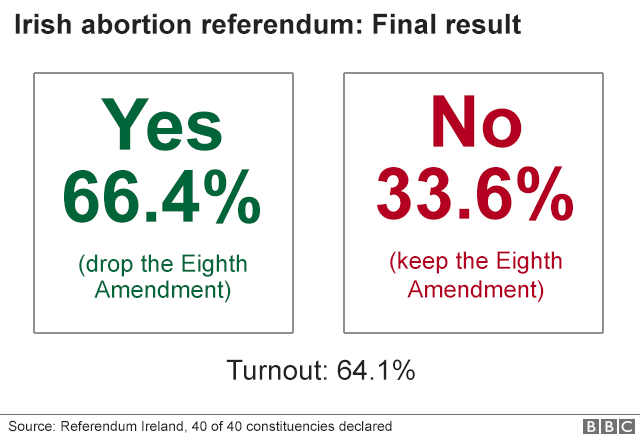 He said he had wrestled with the issue, but added the people had made the right decision and it would mean better care for women in Irish hospitals.
Sinn Féin president Mary Lou McDonald, whose party campaigned in favour of a Yes vote, said: "We have without doubt done right by Irish women for this generation and many to come."
Amnesty International hailed the result as a "momentous win for women's rights" that "marks the beginning of a new Ireland".
Northern Ireland's abortion laws
The vote will have repercussions for women north of the border, as Northern Ireland has the strictest abortion laws in the UK.
Cases of rape, incest and fatal foetal abnormality are not considered grounds for a legal termination.
The UK's Women and Equalities Minister Penny Mordaunt said the predicted landslide vote gave "hope" to Northern Ireland.
Grainne Teggart of Amnesty International UK said the people of Ireland have "given hope to women around the world". But she added Northern Ireland is still subject to restrictive abortion laws.
"It's hypocritical, degrading and insulting to Northern Irish women that we are forced to travel for vital healthcare services but cannot access them at home," Ms Teggart said.
"We cannot be left behind in a corner of the UK and on the island of Ireland as second-class citizens."
Former Northern Ireland health minister Jim Wells said the expected result was a "grave threat" to the unborn child in Northern Ireland.
Mr Wells, a Democratic Unionist Party (DUP) politician, claimed it was "inevitable" that abortion clinics would be set up in border towns to "promote their services to Northern Ireland women".
"It will be much easier to terminate a child's life if this can be done at a clinic in Dundalk or Letterkenny rather than flying to London or Manchester," he added.
At the scene: Kelly-Leigh Cooper, BBC News
The people behind the Repeal campaign were always hopeful of a positive outcome today – but no-one can quite believe they have received such a resounding Yes from the Irish public.
Tears streamed as they watched the poll predictions come true throughout Saturday.
For those who have campaigned tirelessly and helped women in crisis for years – this moment is long overdue.
A celebratory atmosphere has swept across much of the Irish capital. It's impossible to avoid Repeal jumpers and Yes stickers worn proudly on chests everywhere.
Many supporters gathered at the castle (the same place the same-sex marriage results were welcomed three years ago) to celebrate together as results rolled in.
Hugs are being given and cheers of "yes, yes yes," are filling the air.
Source: bbc.co.uk