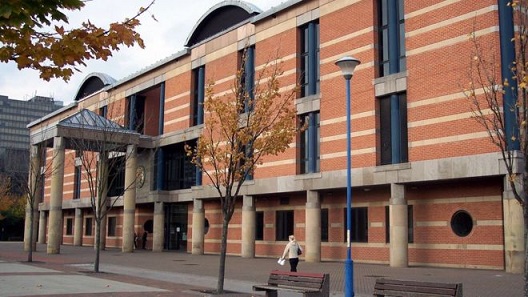 A judge has criticised the legal aid system after a woman was forced to appear in the same court as a former partner she had accused of raping her because she could not afford a lawyer.
The family court in Middlesbrough was deciding what contact the woman's young daughter should have with her father.
The woman walked out as questions reached allegations of sexual abuse.
District Judge Simon Read said the situation created a "likelihood" of a miscarriage of justice.
Judge Read said both parties had appeared "in person" because neither could afford a lawyer or were eligible for legal aid so had to represent themselves.
The judge said he had asked questions rather than having the pair cross-examine each other.
But he said the woman became distressed and walked out of court when questions moved to allegations of a "sexual nature".
Judge Read said he feared any abuse suffered by the woman might have been prolonged.
He outlined his worries in a written ruling into the case, which was heard in March but has just been published.
In it he said no criminal court would have allowed proceedings to continue without representation for both parties.
"Neither parent could afford a lawyer, and neither was eligible for legal aid," said the judge.
"I found this surprising in the mother's case in particular, given that I was told that she was dependent entirely on state benefits and yet failed the means test, despite the nature of the case."
Judge Read found allegations of assault by the father against the mother and an older son proved.
But he said in the circumstances – because of "the lack of opportunity for them to be tested on oath" – he could not find allegations of rape, sexual assault and abusive behaviour proven.
The judge said the questions he asked the father "were rather stilted, and lacked any of the finesse, insight or skill of those that they would have had had they been asked by an advocate who had prepared the case properly".
He added: "I cannot pretend that I was either thorough enough, probing enough, or pursued the right lines of enquiry in asking questions of either parent's evidence, but especially the father's."
The judge added he believed there was a "very strong likelihood that the outcome of the fact finding would have been different, and most probably a truer reflection of what really happened" if both parents had been represented by lawyers.
"It would surely have concluded sooner, more fairly, and at far less expense to the public purse than ultimately was the case, with two wasted days at Court," he added.
"It may also have been less painful for the participants."
According to the National Centre for Domestic Violence, 6,000 victims were denied free legal representation in 2017.
Changes introduced under the Legal Aid, Sentencing and Punishment of Offenders Act 2012 removed most legal aid in the family courts except in cases of domestic violence.
But to secure free legal support, victims have to provide evidence of the abuse, as well as being subject to a means test on income and assets.
A Legal Aid Agency spokesperson said: "Family law cases can be traumatic and it is vital that victims of domestic violence who cannot pay for their own legal assistance in such cases have access to the help and support they need.
"We consider every case carefully in line with the rules."
Source: bbc.co.uk