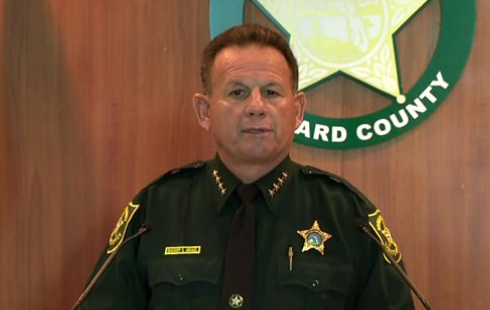 An armed officer assigned to the Florida school where a gunman killed 17 people last week stood outside the building during the shooting and did not intervene, the local sheriff says.
Deputy Scot Peterson has resigned after being suspended, Broward County Sheriff Scott Israel said.
"I am devastated. Sick to my stomach. He never went in," Sheriff Israel said.
Earlier this week President Trump said arming school teachers could prevent school shootings.
The proposal has long been championed by the powerful National Rifle Association (NRA) gun lobby.
On Thursday, in the NRA's first comments since the massacre, its head accused Democrats and media of "exploiting" the attack. Wayne LaPierre said "opportunists" were using the tragedy to expand gun control and abolish US gun rights.
Sheriff Israel said Mr Peterson, 54, was the school resource officer of the Marjory Stoneman Douglas High School, and was at the site, armed and in uniform, when the shooting took place.
He said video footage showed Mr Peterson arriving at the building where the shooting broke out about 90 seconds after the first shots were fired, and that he remained outside for about four minutes. The attack lasted six minutes, Sheriff Israel said.
Asked what Mr Peterson should have done, Sheriff Israel said: "Went in, addressed the killer, killed the killer."
Mr Peterson is yet to publicly comment on what happened. Officers are reportedly guarding his home.
Sheriff Israel said Mr Peterson had not given a reason for why he did not go into the building where the shooter was. It is unclear if he will face charges.
Sheriff Israel said he would not be releasing the video showing Mr Peterson and might never do so, "depending on the prosecution and criminal case" against the 19-year-old suspect accused of carrying out the shooting, former student Nikolas Cruz.
The gunman used a semi-automatic AR-15 assault rifle, police say, and escaped the scene before being seen and arrested later.
Why was Deputy Peterson there?
School resource officers are sworn law enforcement officers who are responsible for safety and crime prevention in schools, although their exact roles differ from school to school and authority to authority.
Employed by the local police or sheriff's office, they document incidents and can make arrests, as well as working on areas such as mentoring and education.
There are between 14,000 and 20,000 such officers in the US, according to the National Association of School Resource Officers.
Mr Peterson had been in his position at the school since 2009, local media report.
The Sun-Sentinel newspaper said he had worked for the sheriff's office since 1985 and office records showed his salary for 2016 was $75,673 (£54,137).
Were there any other failures?
Concerns have been raised about both the school's video surveillance system and whether warnings about Nikolas Cruz were ignored.
It has been reported that the person watching the surveillance system was relaying information 20 minutes old to police, so officers believed the gunman was in a certain area when he was not.
It has also been reported that calls were made to local authorities in 2016 and 2017 expressing concern about Nikolas Cruz, including one saying he was planning to attack the school.
When will the school reopen?
Teachers will be allowed back in on Friday. Both students and teachers are invited to a reorientation on Sunday, ahead of classes resuming on Wednesday.
The three-storey building that was attacked is to be torn down.
Are teachers now going to be armed?
In recent days both President Trump and the NRA have spoken about this.
Speaking at the Conservative Political Action Conference (CPAC) in Washington on Thursday, Mr LaPierre reiterated that his group backed it.
He said the NRA would help any US school with their safety and security, free of charge, adding that "opportunists" pushing for more gun control "hate the NRA. They hate the second amendment. They hate individual freedom".
The second amendment in the US constitution protects the "right to keep and bear arms".
Mr Trump floated the idea of arming teachers at a White House event on Wednesday where he heard from survivors of the Florida school shooting,
Discussing school safety with state and local officials on Thursday, he explained why he believed that it would work, saying: "Shooters won't walk into a school if 20% of people have guns."
Mr Trump added: "What I'd recommend doing is the people that do carry, we give them a bonus. We give them a little bit of a bonus."
But Randi Weingarten, president of the 1.7 million-member American Federation of Teachers union, disagreed that arming teachers was a suitable solution.
"Anyone who wants guns in schools has no understanding of what goes on inside them – or worse, doesn't care," she said.
What other measures are being talked about?
Survivors of last week's deadly shooting have called for stricter gun laws, prompting the nationwide activist movement #NeverAgain.
Mr Trump has said he supports raising the age at which a person can buy a gun from 18 to 21 and insists the NRA would back such a proposal.
"I don't think I'll be going up against them," Mr Trump said of the gun lobby. "They're good people."
Mr Trump also took to Twitter on Thursday to push for national background checks for the mentally ill, a policy which the NRA chief later echoed at the conference.
"Anyone adjudicated as mentally incompetent or dangerous to society should be prevented from getting a gun," said Mr Trump.
The US president has also directed his administration to take steps to ban gun "bump stocks".
The accessories – which enable a rifle to shoot hundreds of rounds a minute – were used by a gunman who killed 58 concert-goers in Las Vegas last October.
Source: bbc.co.uk