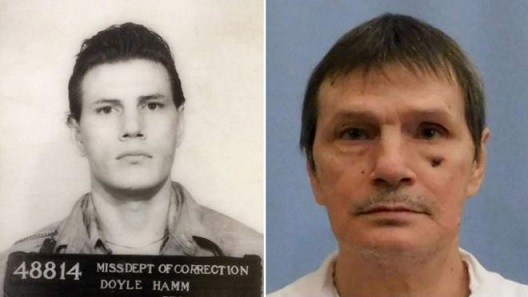 The US Supreme Court has reportedly granted a temporary stay of execution to a cancer-stricken death row inmate in the state of Alabama.
Doyle Lee Hamm, 61, argued his veins were too damaged from cancer and past drug use, and said the lethal injection would be unconstitutionally painful.
He was convicted of fatally shooting motel clerk Patrick Cunningham in 1987 in a robbery where $410 was taken.
Capital punishment in the US was reinstated in 1976.
One other death row inmate was executed in Florida on Thursday night, while another in Texas was spared.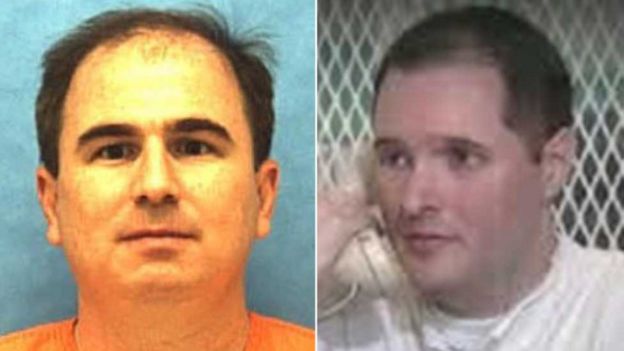 The Texas governor commuted the death sentence of Thomas "Bart" Whitaker, 38, who was sentenced to death an hour before his execution.
He was convicted for the 2003 murder of his mother and brother.
His father, who was shot in the chest but survived, had pleaded with the state of Texas to save his son's life and change his sentence to life in prison.
Kent Whitaker, a devout Christian who once believed in the death penalty but now forgives his son, said he did not want to "lose the last member of my direct family in the name of justice that I think is wrong".
In Florida, inmate Eric Scott Branch, 47, shouted "murderers!" three times and struggled on a gurney as he was put to death on Thursday for the rape and killing of 21-year-old Susan Morris while she was a student at the University of West Florida.
Branch was sentenced to death in 1993 and spent 24 years on death row. Governor Rick Scott of Florida signed his death warrant in January.
In the case of Hamm, it is not clear how long the temporary stay will last, reports AL.com.
Alabama argues he has been in remission from cancer since 2016, according to Alabama Public Radio.
A judge denied the inmate's appeal and said the state would not use any veins in his arms and hands in the execution.
US Chief District Judge Karon O Bowdre wrote in her order on Tuesday: "The court's independent medical expert reported that Mr Hamm has accessible peripheral veins in his lower extremities, and that the peripheral veins in his upper extremities, while accessible, would be more difficult to access and would require a more advanced practitioner using ultrasound guidance."
Hamm was diagnosed with B-cell lymphoma in 2014. His lawyer has argued that cancer, hepatitis C and previous drug use compromised his veins and could result in a botched execution.
His lawyer, Bernard Harcourt, unsuccessfully urged the state to block the execution several times. It is scheduled for 18:00 local time (00:00 GMT).
The attorney also argued that the state should not kill a man already dying with cancer.
"We've past the point of ghoulish justice," Mr Harcourt told the New York Daily News on Thursday. "We are at the point of human sacrifice."
Experts at the United Nations supported his lawyer's claim and encouraged Alabama to halt his execution, saying that killing Hamm in his condition could amount to cruel or unusual punishment.
"We are seriously concerned that attempts to insert needles into Mr Hamm's veins to carry out the lethal injection would inflict pain and suffering that may amount to torture," the UN said in a statement.
Alabama officials said they will alter their traditional execution protocols and instead connect an intravenous line to Hamm's legs or feet after an expert determined those veins would be accessible.
In a Facebook video posted on Wednesday, Alabama Attorney General Steve Marshall said that "I will not request that Doyle Hamm's execution be stopped, but instead I will ask that justice be served".
He asserted that Hamm's crime of killing Mr Cunningham, a father of two, was worthy of the death penalty.
Source: bbc.co.uk