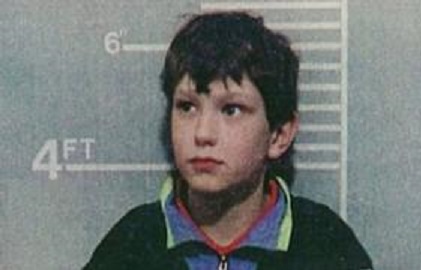 Jon Venables, one of the killers of toddler James Bulger, has been jailed for having indecent images of children for the second time.
He pleaded guilty to three charges of making indecent images of children and one of possessing a paedophile manual.
Sentencing him to three years and four months Mr Justice Edis said Venables was "manipulative and dishonest".
In 2010 the killer was jailed for two years after admitting downloading and distributing indecent images.
Venables along with Robert Thompson abducted, tortured and killed two-year-old James in Liverpool in 1993 when they were both aged 10.
They were released on licence in 2001 after serving eight years for the murder and were both given new identities.
Venables, who has lifelong anonymity, appeared by videolink at the Old Bailey earlier.
He admitted having 392 category A images – deemed the most severe – 148 category B and 630 category C pictures.
Along with the jail sentence, the judge made Venables the subject of an indefinite sexual harm prevention order and ordered his laptop be confiscated.
He said the Parole Board would decide when Venables would be released.
James's mother Denise Fergus and father Ralph Bulger were in court to hear the latest guilty pleas.
The judge said he had received a request to delay sentencing so Mr Bulger could make a victim impact statement.
But, in deciding to sentence straight away, Mr Justice Edis said: "I know already how it must be for them when that tragic event is once more brought into the public domain into court and so on because of the offending of one of the killers."
"I do not think there is very much more that can be said to me that I do not already know that could have an effect on the sentencing process," he said.
The court heard when Venables' computer was seized in November images were found of children, mainly aged between six and 13, although some were younger.
Officers also found a "paedophile manual", described by prosecutor Louis Mably as a "disgusting and sickening document which falls far below any recognisable standard of morality".
A report found Venables was a "high risk of real harm to children" in the future, the court was told.
It states that he has a "long-term and profound interest in children".
The court also heard that as he was being taken to a police station, Venables admitted he had "let people down".
He said: "This is my own fault. I have let people down again."
Source: bbc.co.uk