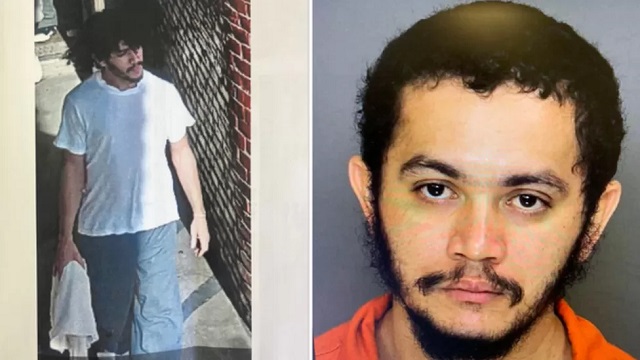 A massive manhunt is under way in Pennsylvania for a prison inmate who escaped just a week after being sentenced to life in prison for murder.
Brazilian national Danelo Cavalcante, 34, escaped from Chester County Prison in West Chester on Thursday morning.
A week ago, he was sentenced to life in prison for stabbing an ex-girlfriend to death in front of her two small children.
Cavalcante is also wanted for murder in Brazil.
At a news conference on Thursday, the prison's acting warden, Howard Holland, offered no details on how the escape took place, saying only that an investigation is ongoing.
He was last seen walking along a road in nearby Pocopson Township about an hour after he fled the prison.
Residents of a six-mile (9km) radius around the prison were notified of the escape and warned to be extremely cautious. Dozens of law enforcement agencies are now involved in the search and have deployed dogs, drones and helicopters to help find him.
"If you see him, do not approach him," Chester County district attorney Deb Ryan said on Thursday. "We're asking you please to contact 911. He is considered extremely dangerous."
According to authorities, Cavalcante stabbed ex-girlfriend Deborah Brandao to death in April 2021 in front of her children, who were four and seven years old at the time. Brandao was stabbed 38 times during the murder.
He was arrested hours later after fleeing to Virginia.
In a Facebook post last week, the Chester County district attorney's office said that Brandao had "threatened to expose him to the police" after learning that Cavalcante had an open warrant for murder in Brazil.
Ms Ryan, the Chester County district attorney, told news outlet Local Daily News that Cavalcante – a former gang member – is believed to have murdered a man who owed him money in Brazil in 2017.
The US Marshals Service and local authorities are offering a reward of $10,000 (£7,889) for information leading to his arrest.
Source: bbc.co.uk