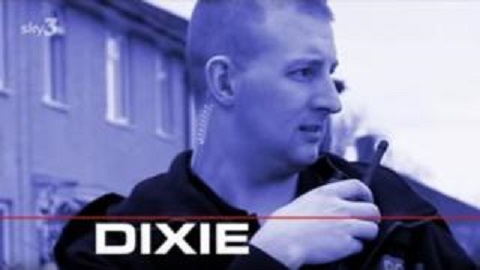 Tributes have been paid to an on-duty police officer who died along with a 91-year-old woman following a crash on the A4 in Berkshire.
PC James Dixon died after the motorcycle he was riding was in collision with a car on Bath Road near Hare Hatch on Tuesday afternoon.
He had appeared in the Sky TV programme Road Wars.
The pensioner, who was a passenger in the car, was also killed while the female driver was taken to hospital.
Thames Valley Police said the next-of-kin of both PC Dixon and the dead woman had been informed.
The incident has been referred to the Independent Police Complaints Commission (IPCC).
PC Dixon, known to "Dixie" as friends, was based at Loddon Valley police station, near Reading.
Tributes to PC Dixon have been posted in comments on Thames Valley Police's Facebook page, with many referring to watching him on the Sky 1 TV series Road Wars.
Jo Gill said: "Goodnight Dixie, you really were one of the funniest and best blokes I worked with. You are un-replaceable and my heart goes out to Your family both blood and blue."
Dave Bulger added: "Stand down Dixie, I can't believe you're gone mate. It was a real pleasure to know you and my heart goes out to your family and loved ones."
On Twitter, Ryan Sheehan said: "Growing up I was a big fan of PC James 'Dixie' Dixon and his @tvprp colleagues as they featured in #RoadWars.
"It's well respected officers like PC Dixon that inspire me to be a police officer. My thoughts are with all those who knew him at this very difficult time."
PC Craig O'Leary, chairman of Thames Valley Police Federation, tweeted: "Taken to soon, rest easy my friend."
Road Wars followed 14 members of Thames Valley Police's roads policing officers from 2003 to 2010.
PC Dixon is believed to have taken part in several series of the programme and was filmed with his partner "Yorkie".
IPCC Associate Commissioner Guido Liguori said investigators were attending the scene as part of an "independent investigation to determine the circumstances which led to the collision".
Source: bbc.co.uk