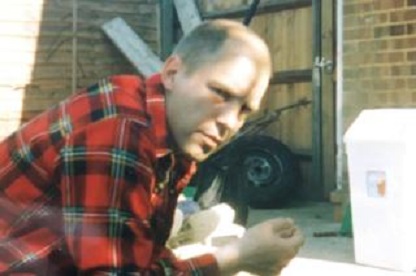 New evidence is expected to emerge casting doubt on Michael Stone's conviction for the Russell murders and implicating serial killer Levi Bellfield, BBC Wales understands.
Lin Russell, 45, and Megan, six, were killed in 1996 within months of moving to Kent from north Wales. Josie, nine, survived despite dreadful injuries.
Michael Stone was found guilty in 2001.
His legal team is to release evidence, seen by BBC Wales Investigates, which they say links Bellfield to the crime.
Known as the bus stop killer, Bellfield, 49, is currently serving two whole life terms. He would launch so-called blitz attacks on women as they made their way home, bludgeoning them with a hammer from behind.
In 2011 the nightclub bouncer and wheel-clamping contractor was convicted of abducting and murdering 13-year-old Milly Dowler as she walked home from school in Surrey in 2002.
By then he had already been convicted of three other attacks in south-west London – murdering 19-year-old Marsha McDonnell in 2003, Amelie Delagrange, 22, in 2004 and in the same year attempting to kill 18-year-old Kate Sheedy, by running her over. She survived her injuries.
It is widely believed by detectives that Bellfield is responsible for numerous other crimes dating back to the 1980s.
While Bellfield denies any involvement, this is not the first time his name has been linked with the Russell murders.
The mother and two daughters were attacked just before 16:30 BST on 9 July 1996, as they walked with the family dog the two-or-so miles home from school in Chillenden, near Dover.
Half way along a country lane, they were accosted by a man, tied up, made to sit in a copse, blindfolded and bludgeoned with a claw hammer, one by one.
When they were found eight hours later, it was thought all were dead.
Josie was found to have a faint pulse. Remarkably, she survived. She lives and works as an artist in north Wales, having returned to Gwynedd with her father soon after the attack.
A year after the murders a tip off to Crimewatch from a psychologist who worked at a local psychiatric assessment centre, led to the arrest of 36-year-old Michael Stone from Gillingham.
In October 1998, Stone, a heroin addict with a criminal history, was convicted.
In the absence of any forensic evidence, the jury believed the main thrust of the prosecution's case – three prison inmates who claimed Stone had confessed.
One of the inmates admitted soon after the trial ended that they had lied and another was discredited.
Stone's legal team challenged his conviction. A retrial was ordered.
But one of the inmates, Damien Daley, then aged 26, held firm to his claim that Stone had confessed to him in grisly detail.
The judge's summing up to the jury was unequivocal: "The case stands or falls on the alleged confession of Damian Daley."
In late 2001, Stone was once again found guilty and given three life sentences.
As the judge addressed him, Stone cried out: "It wasn't me your Honour, I didn't do it!"
Since then Stone has failed in two appeal bids.
When asked to respond to the possibility of new allegations in this case, Kent Police said that Stone's protests of innocence had been thoroughly tested by the judicial system.
Source: bbc.co.uk